How To Make A Balloon Animal
Learn how to make a puppy with the people from TWISTED: A Balloonamentary.
Getting noticed at SXSW isn't the easiest job for any film maker, so everyone's innovating. For the makers of TWISTED: A Balloonamentary, they're hoping you can't see a balloon without thinking of them. At the world premier of the latex-laden doc on Saturday, the whole crowd got a quick insight in the first, great life-lesson that balloon-twisting gives – how to make a balloon dog. There's also twisters working the crowds, handing out balloon hats, animals and flowers to the crowds. And if you miss out on that, just watch out for their promo-postcards, each of which comes with a free balloon and instructions on how to make your own balloon critter (hint – when twisting, pull the two sides apart a bit, to cut down on deadly friction.)

Twisted screens again on Tuesday at midday at Dobie.
A note to readers: Bold and uncensored, The Austin Chronicle has been Austin's independent news source for over 40 years, expressing the community's political and environmental concerns and supporting its active cultural scene. Now more than ever, we need your support to continue supplying Austin with independent, free press. If real news is important to you, please consider making a donation of $5, $10 or whatever you can afford, to help keep our journalism on stands.
READ MORE
Olympian and entrepreneur Allyson Felix, Cecile Richards, more
Richard Whittaker, Aug. 30, 2022
Benton Graham, Aug. 5, 2022
More by Richard Whittaker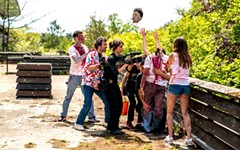 French remake of beloved Japanese movie-making comedy adds a little
Sept. 30, 2022
Wall-to-wall Godzilla in the new show, opening tonight
Sept. 30, 2022
KEYWORDS FOR THIS POST
MORE IN THE ARCHIVES