Stars Come Home for Tilt With Grand Rapids
Looking for a playoff push
By Eric Pickhartz, 12:30PM, Tue. Jan. 18, 2011
Halfway through the 2010-11 season, the Texas Stars are in position to be a contender, but with some player changes and a fourth-place NHL team to look up to, things are getting interesting at the Cedar Park Center. Click through for the scoop and a preview of tonight's game.
With 50 points and a .610 clip on the year, coach Glen Gulutzan's team sits in sixth place in the AHL's Western Conference. Texas has had one game at the Cedar Park Center since the holiday break, an unfortunate sell-out loss on January 6. They went six and three in regulation with a shoot-out loss added in their last 10. The Stars are only three points behind West Division leader Milwaukee, who they'll skate against on Saturday at home after a trip to Houston to take on the rival Aeros.
As for player moves, management traded Fabian Brunnstrom, a back-and-forth NHLer, to Toronto for right-winger Mikhail Stefanovich, a 21-year-old Belarusian. Stefanovich has dressed for only two AHL games in his career, and will look to get his feet wet with the Stars.
Defenseman Philip Larsen has been reassigned to Texas after appearing in his sixth NHL game. Brandon Segal was sent to join Larsen and the rest of the Cedar Park Center crew last week. He was claimed off waivers from the Los Angeles Kings on February 11, 2010, and scored 11 points in 36 games for Dallas.
Most importantly, the Stars also announced center Travis Morin will start for the Western Conference All-Star Team on January 31. Morin has played in every Texas Stars game and leads the team in points this season with 32. He is the third Star to be named to an All-Star roster. The game can be watched live from Hershey, Pa., online for a small fee. Check out ahl.neulion.com/ahl/ for more info.
Game Preview
Texas Stars (23-14-2-2) vs. Grand Rapids Griffins (19-19-1-4)
Cedar Park Center, 7:30pm, tonight, January 18, 2011
Texas played eight of their last nine as the away team, and got through the trip without much damage. They will look for the home-ice advantage to take them within striking distance of the division lead. The Griffins ended a season-high five-game road losing streak on Thursday. They've allowed two or less goals in six of their last eight.
Who's Hot
Texas: Greg Rallo scored his 12th goal Saturday and has a nice three-game point streak going. He leads the team in shots on goal with 125 and has played in all 41 games this season.
Grand Rapids: Goalie Jordan Pearce's 2-1 record and .935 save percentage earned him Reebok/AHL Player of the Week honors. He stopped 42 shots against division leader San Antonio in a win last Thursday. Every Tuesday, any H-E-B store brand food product gets you $5 off your ticket. It's also 3-2-1 night, with $3 domestic drafts, $2 sodas, and $1 hot dogs.
A note to readers: Bold and uncensored, The Austin Chronicle has been Austin's independent news source for almost 40 years, expressing the community's political and environmental concerns and supporting its active cultural scene. Now more than ever, we need your support to continue supplying Austin with independent, free press. If real news is important to you, please consider making a donation of $5, $10 or whatever you can afford, to help keep our journalism on stands.
READ MORE
More Sports
Registration for the Thong Jog kicks off in high style
Claire Gordon, May 9, 2014
First UFC women's bantamweight title fight
Liz Williams, Feb. 11, 2013
More by Eric Pickhartz
March 4, 2011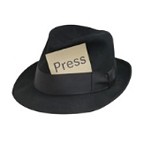 March 2, 2011
KEYWORDS FOR THIS POST
Sports, Texas Stars, Cedar Park Center
MORE IN THE ARCHIVES