Stars Send Three to Dallas
Texas helps the big club fill holes
By Eric Pickhartz, 2:51PM, Wed. Dec. 8, 2010
Usually, when you receive an e-mail from a minor league team's media relations director telling you the house is packed with scouts, it means somebody may be called up. Sure enough, that's exactly what happened.
Three players have been called up to Dallas in the last few days, meaning there's little doubt the usual Chronicle chair in the press area of Cedar Park Center was occupied by a pro scout's keister.
The Stars announced Monday that Francis Wathier, the team's second-leading goal scorer on the season, is heading to Dallas. This came after forward Aaron Gagnon and defenseman Philip Larsen were called up over the weekend. All three players have spent previous time with the big league club, this being Gagnon and Larsen's second trip of the season. Dallas, whose recent hot streak has them leading their division and second in the NHL's Western Conference, has some injured players to replace in the lineup.
The Texas Stars replaced Wathier with Tristan King from secondary Dallas affiliate Idaho. King, a promising 20-year-old rookie, was in on the first nine Texas games this season, and returns after being assigned to Idaho on Nov. 21.
Four and three over the last seven, at 14-8 the Stars are sitting sixth in their division. Every Tuesday fans can bring any nonperishable H-E-B food item to get $5 off a ticket. The team travels to Rockford tonight, starting a four-game road trip, and returns home Dec. 14 for a matchup with Manitoba.
Upcoming: Vs. Manitoba: Tue. Dec. 14, 7:30pm. Vs. Hamilton: Sat., Dec. 18, 7pm. Vs. Oklahoma City: Mon., Dec. 20, 7:30pm. Cedar Park Center, 2100 Avenue of the Stars, Cedar Park, 512/467-8277.
[Editor's note: Wathier took a flight back to Central Texas and scored a goal for the Texas Stars in their 5-2 win over Manitoba, Tuesday, Dec. 7.]
A note to readers: Bold and uncensored, The Austin Chronicle has been Austin's independent news source for almost 40 years, expressing the community's political and environmental concerns and supporting its active cultural scene. Now more than ever, we need your support to continue supplying Austin with independent, free press. If real news is important to you, please consider making a donation of $5, $10 or whatever you can afford, to help keep our journalism on stands.
READ MORE
More Sports
Registration for the Thong Jog kicks off in high style
Claire Gordon, May 9, 2014
First UFC women's bantamweight title fight
Liz Williams, Feb. 11, 2013
More by Eric Pickhartz
March 4, 2011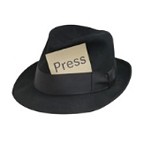 March 2, 2011
KEYWORDS FOR THIS POST
Sports, Texas Stars, Cedar Park Center
MORE IN THE ARCHIVES