Hellmund Speaks
F1 project boss talks tracks and team orders
Tuesday saw the big announcement of the financial heavy hitter (Red McCombs) and the location (Elroy) of the new US Grand Prix Formula One track. You can read more in this week's paper, but there were other details from Full Throttle Productions managing partner Tavo Hellmund.
On the genesis of F1 in Austin: "We talked about it as long as ten, eleven years ago, and I think the timing wasn't right in terms of where we were as a city. Cosmopolitan-wise, tech-wise, it was still coming into its own. But literally, three years ago, I thought the timing was right."
On not making the negotiations public: "I took an old adage most Texans are proud of, and that's to walk the talk instead of talking the walk. So we stayed quiet about it. We didn't see any purpose in sending rumors out there, as you've heard over the last two or three years about other locations. Instead, we wanted to make sure we actually were the best location for the US Grand Prix."
On rumored financial backers: "There's been speculation in the media around the world that the partners were foreign money, people from Asia or people from the Arab world, and I will say that interest has been to be involved in this from every corner of the globe. That has not been an issue."
On teaming with McCombs Group: "Their experience in the sports world, complimented by our experience in motor sports, I don't think there could be a better group."
On the project's three commitments: "Bring value and economic development to the region, that's one of our priorities in the group because we're all proud Texans. Two, create value for our partners and three, to without a doubt to make this one of the true great sporting events on an annual basis."
On the Elroy site: "I think know you understand, when the site was being talked about and I said there two or three had been looked at, and I think that Red's just given a little clue that a lot of work has been done on other site already."
On the importance of having a dedicated permanent F1 track: "People have been commenting that Formula One hasn't stuck in the United States and that's completely inaccurate. Formula One was immensely successful from 1960 to 1981 when it was at a permanent road course facility."
On beating out former US Grand Prix hosts Indianapolis Motor Speedway: "As wonderful as IMS is, it was basically an adaptation. It was an indycar track that NASCAR has been able to success there because it was on an oval. But that would be like us trying to play baseball at DKR."
On team orders in F1: "I don't think they're a good idea."
A note to readers: Bold and uncensored, The Austin Chronicle has been Austin's independent news source for over 40 years, expressing the community's political and environmental concerns and supporting its active cultural scene. Now more than ever, we need your support to continue supplying Austin with independent, free press. If real news is important to you, please consider making a donation of $5, $10 or whatever you can afford, to help keep our journalism on stands.
READ MORE
More Tavo Hellmund
The man that brought F1 to Austin now behind Mexican Grand Prix
Richard Whittaker, Aug. 27, 2014
Updated: Hellmund explains war between himself, partners
Richard Whittaker, Nov. 17, 2011
More Formula One
From local acts to international superstars, F1 has a sound for you
Oct. 29, 2019
'Shame' and 'Prometheus' star to narrate F1 doc '1'
Richard Whittaker, Nov. 15, 2012
More by Richard Whittaker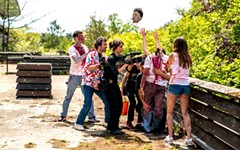 French remake of beloved Japanese movie-making comedy adds a little
Sept. 30, 2022
Wall-to-wall Godzilla in the new show, opening tonight
Sept. 30, 2022
KEYWORDS FOR THIS POST
Tavo Hellmund, Formula One, US Grand Prix, Elroy, F1 track Austin, Full Throttle Productions
MORE IN THE ARCHIVES