Banking on Hard Hits
TXRD Lonestar playoff tonight
It may be raining outside, but it's dry inside the Convention Center. So for the cost of a decent umbrella you can join the TXRD Lonestar Rollergirls there as they hit the banked track for tonight's championship play-off bout.
Tonight, the Hellcats face off against the Rhinestone Cowgirls in the last home bout of the year before the Cavello Cup Championship Bout on Oct. 10. Tickets are $15: Doors 6pm, first whistle at 7pm.
A note to readers: Bold and uncensored, The Austin Chronicle has been Austin's independent news source for over 40 years, expressing the community's political and environmental concerns and supporting its active cultural scene. Now more than ever, we need your support to continue supplying Austin with independent, free press. If real news is important to you, please consider making a donation of $5, $10 or whatever you can afford, to help keep our journalism on stands.
READ MORE
More Lonestar Rollergirls
Aussie doc maker wants to bring Roller Derby film to Central Texas
Richard Whittaker, April 27, 2013
Lonestar starts rolling, Texies on the road, and Whammy recap
Richard Whittaker, Jan. 28, 2012
More by Richard Whittaker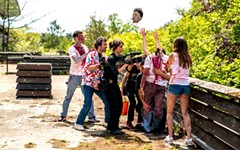 French remake of beloved Japanese movie-making comedy adds a little
Sept. 30, 2022
Wall-to-wall Godzilla in the new show, opening tonight
Sept. 30, 2022
KEYWORDS FOR THIS POST
Lonestar Rollergirls, Hellcats, Rhinestone Cowgirls
MORE IN THE ARCHIVES