Capital Punishing
Day two of the banked track roller derby tournament
The wheels are rolling at the second annual Battle on the Bank banked track roller derby tournament, being held this weekend at the Austin Convention Center. Fact is, if the leviathans of banked track thought this weekend was going to go their way, there could be an upset in the wings.
The initial suspicion was that the big fight would come down to the LA Derby Dolls and the TXRD Lonestar Rollergirls. Yet two of the less-touted teams – the flat track all-stars of Team Legit and the banked/flat hybrid that is the San Diego Derby Dolls – are neck-and-neck in the first bout of day two of the tourney. From the way they're playing, they both have the potential to become giant killers.
Yesterday was a day of massive point differentials, with the L.A. Ri-ettes and the Austin's own Lonestar All-Scar Army pummeling Red Dirt Rebellion and Hurricane Alley respectively by over 100 points a piece. Now the hard fight between the best skaters continues, and runs through four bouts today.
Team Legit, which draws its roster from half a dozen flat track teams, have been the surprise of the tourney: Not simply because they handed a crushing defeat 123-18 defeat to the Arizona Derby Dames, but because they've transferred their skills so fluidly to the bank and become a cohesive team this quickly. If they can get past the more seasoned San Diego, it would be the biggest upset imaginable.
One-day tickets are still available on the door.
A note to readers: Bold and uncensored, The Austin Chronicle has been Austin's independent news source for over 40 years, expressing the community's political and environmental concerns and supporting its active cultural scene. Now more than ever, we need your support to continue supplying Austin with independent, free press. If real news is important to you, please consider making a donation of $5, $10 or whatever you can afford, to help keep our journalism on stands.
READ MORE
More Lonestar Rollergirls
Aussie doc maker wants to bring Roller Derby film to Central Texas
Richard Whittaker, April 27, 2013
Lonestar starts rolling, Texies on the road, and Whammy recap
Richard Whittaker, Jan. 28, 2012
More by Richard Whittaker
Telling a love story with the "I love you"
Oct. 7, 2022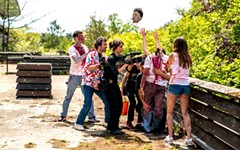 French remake of beloved Japanese movie-making comedy adds a little
Sept. 30, 2022
KEYWORDS FOR THIS POST
MORE IN THE ARCHIVES