Banked Track Bonanza
Lonestar Rollergirls host national roller derby tourney this weekend
Last year, the LA Derby Dolls hosted the first ever banked track roller derby inter-league tournament of the modern derby era: But as any derby fan knows, eventually all tracks lead to Austin. So it's no surprise that this weekend the biggest names in the sport head to the Austin Convention Center for Capital Punishment: Battle on the Bank II.
Aside from hometown hosts the TXRD Lonestar Rollergirls, the California contingent will be here in force with LADD and sister league the San Diego Derby Dolls in town. Throw in Oklahoma's Red Dirt Rebellion Rollergirls (amongst others), and there'll also be some flat trackers learning to skate with the curve, including the Arizona Derby Dames and Corpus Christi's Hurricane Alley Roller Derby.
We'll have more coverage over the next couple of days, so check back in for more details about the biggest event in the banked track year: Tickets available now.
A note to readers: Bold and uncensored, The Austin Chronicle has been Austin's independent news source for over 40 years, expressing the community's political and environmental concerns and supporting its active cultural scene. Now more than ever, we need your support to continue supplying Austin with independent, free press. If real news is important to you, please consider making a donation of $5, $10 or whatever you can afford, to help keep our journalism on stands.
READ MORE
More Lonestar Rollergirls
Aussie doc maker wants to bring Roller Derby film to Central Texas
Richard Whittaker, April 27, 2013
Lonestar starts rolling, Texies on the road, and Whammy recap
Richard Whittaker, Jan. 28, 2012
More by Richard Whittaker
Telling a love story with the "I love you"
Oct. 7, 2022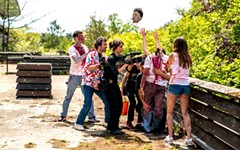 French remake of beloved Japanese movie-making comedy adds a little
Sept. 30, 2022
KEYWORDS FOR THIS POST
Lonestar Rollergirls, Battle on the Bank II, TXRD Lonestar Rollergirls, LA Derby Dolls, San Diego Derby Dolls, Arizona Derby Dames, Red Dirt Rebellion Rollergirls, Team Legit, Vegas Renegades, Hurricane Alley Roller Derby
MORE IN THE ARCHIVES