Burning Down the Ags: Is It Ever Enough?
Thanksgiving = turkey, then football, then shopping
By Joe O'Connell, 2:48PM, Fri. Nov. 28, 2008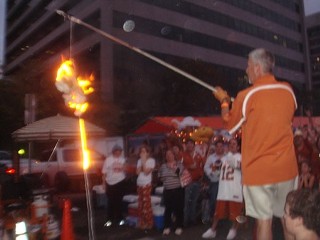 Reveille dangles limply from a string attached to a long stick as a Longhorn fan tries repeatedly to ignite the sad dog. Finally the spark takes, and the Texas A&M mascot turns into pure flame lifted aloft as an offering to the gods of football.
This is tailgating taken to the monied extremes. Like fajitas once were the meat that only poor people ate (and fajitas were never chicken), like punk rock was once rebellious, the University of Texas tailgate — some outdoor grilling you did to while the time with family and friends after assuring yourself of an early and reliable parking spot—has gone corporate. State employee lots that once were seen as prime game-day parking are now Austin's Disneyland complete with corporate sponsors. It works like this: put up the banner of Bland Light and get 25 cases of tasteless corporate beer to hand out to your friends and coworkers. Entire areas are roped off for a jumbo party that spills, beer can in hand, to near the refurbished, expanded, corporate-box-added stadium where Sports Illustrated has its tent offering free copies of the latest special issue.
Power, fun, safety, and belonging. Those are the four basic human emotional needs, and all are for sale here today, Longhorn Inc. says. Wear our team colors, drink some more Boring Light. Come to the stadium food court (now open during the school week!) for a $6.50 chopped barbecue sandwich or two chicken tenders for $10. Yell from your seats at the idiots from College Station. Revel in how much better your team is. They are fools and losers. Today is Thanksgiving. We give thanks that we are not you.
Which brings us back to the flaming pupsicle. Probably made in China — where effigy burning is an ancient and sacred art — and stuffed with asbestos, he is the essence of tailgating excess. School buses painted half burnt orange and half maroon show the old-school fervor of this dusty rivalry between the farmers and the teasips. Wear your burnt orange, Coach Mack Brown preaches, and if you don't have some, you can buy it from our T-shirt kiosk on any given corner. How about an autographed lithograph or authentic jersey while you're at it?
Oh, yes, there's football, too. A sit-down, stand-up affair for 98,000. Flames leap from the sides of the jumbotron megascreen in the end zone. A fog machine and blaring music announce the arrival of the Horns to the field where they will soon pound into submission the once proud Texas A&M Aggies now touted as the worst team in the Big 12 South. Worse than Baylor (shudder). This day Texas' goal is to beat the Aggies into submission, to light them on fire, hoist their battered corpses in the air as an offering to the new football gods—the Bowl Championship Series computer tabulators. No "Beat A&M" signs here. No ancient Aggie jokes. Instead everywhere signs that read 45-35. One woman stops me on the tailgating streets and asks what this mythic number means. A Bible verse? Secret password to the Longhorn brotherhood? No, a game already won.
Today's game — final score 49-9 — doesn't matter. 45-35. That matters. In Bryan-College Station where a billboard still touts last year's Aggie win, this game matters. In Austin, the Longhorn faithful flick the Ags away like annoying gnats. Oklahoma matters. Hey, we beat them already! How can they steal our seat at the National Championship table? We beat them, they drubbed Tech, Tech barely beat us. How does that add up, the signs draped here and there throughout the stadium cry. 45-35. Do not forget.
The Aggies have one successful play in the first half and negative yards running the ball. At the half it's 21-3, but the Longhorns aren't scoring enough, the fans scream. Feed the BCS beast. More. More. Give Colt McCoy the Heisman Trophy (never to the quarterback from that evil school in Oklahoma or that one from Tech). A&M trots forgotten warrior Stephen McGee on the field and tries to remind everyone that the Aggies beat Texas last year and the year before. He is thrown to the turf, an impotent has-been.
McCoy runs for two touchdowns and throws for two more. He has 31 wins, one more than Vince Young did when Texas last won the National Championship. Colt deserves one, too. (45-35). McCoy leaves the game in the fourth quarter because his coach says he doesn't believe in running up the score. At that point the score is a gaudy 42-3 and Colt has Heisman-like passing numbers: 23 of 28 complete for 311 yards. Is it enough? (45-35) Is it ever enough?
After the game, the Burnt-orange wearers plus a few brave ones in Maroon (losers!) crowd into Scholz Garden for more Barely Beer Light at $5 for 16 ounces of $7 for 32 ounces and watch (watch!) radio hosts talk it out. They create new controversies, rehash the game just seen, listen attentively as the words of Coach Brown are piped through from the stadium (45-35). Is it enough?
Droopy eyed, the fans hit the highway heading north. At midnight the traffic ahead is a shining mass of red brake lights. Wreck ahead? No, the red comes from the exit lane in Georgetown. Passing by, our fans see the outlet mall parking lot is crammed to the gills with hungry shoppers ready to gorge. The corporate gods have commanded it. First turkey, then football, then shopping. It's never enough.
A note to readers: Bold and uncensored, The Austin Chronicle has been Austin's independent news source for over 40 years, expressing the community's political and environmental concerns and supporting its active cultural scene. Now more than ever, we need your support to continue supplying Austin with independent, free press. If real news is important to you, please consider making a donation of $5, $10 or whatever you can afford, to help keep our journalism on stands.
READ MORE
More by Joe O'Connell
Former staff reflect on the zigs and zags of life post-Chronicle
Sept. 3, 2021
In a COVID-strained year, tales of families repairing their lives and the caste system's effect of Black Americans made an impact
Dec. 18, 2020
MORE IN THE ARCHIVES