TXRG Tryouts Monday
Women's flat track derby postseason has booze, bouts, and travel plans
The Texas Rollergirls' regular season may be over, but there's still plenty of ways to get involved. For the less energetic amongst you, Sunday, Aug. 31 at 8pm at Roadhouse Rags (1600 Fortview), there's a bottomless mojito fundraiser for the travel team to get to the WFTDA nationals in Portland ($10 suggested donation). But if you're serious about your skating, this coming Monday is team tryouts. Here's the press release:
Think you have what it takes to be a Texas Rollergirl? Well now's your chance! We are holding open tryouts on Monday, September 1st at Playland Skate Center (8822 McCann Drive). Tryouts begin promptly at 7:30 pm. If you have your own skates and equipment (helmet, wrist guards, knee pads, elbow pads, mouth guard) please bring them. If you don't have equipment, there will be some available for you to use during tryouts. If you don't have skates, they will be available for rental at the rink for $2. Before coming to tryouts, please download and fill out a registration form in advance. For more information about tryouts, contact Shank at tryouts@txrollergirls.com. See you on the rink!
Oh, yeah, and there's still a bucket load of bouts to come. Check below the fold for the rest of the postseason.
Sept. 7: Texecutioners vs. Detroit Derby Girls plus Clash of the Midsummer Night's Dream Teams (Home.)
Sept 15: Texecutioners vs. Dairyland Dolls from Madison. Wis. (Home.) Free admissions with Sept. 7 ticket stub.
Sept. 21: Governor's Cup in Dallas.
Oct. 3-5: WFTDA Western Regionals, Houston.
Nov. 14-16: WFTDA Nationals, Portland, Ore.
A note to readers: Bold and uncensored, The Austin Chronicle has been Austin's independent news source for over 40 years, expressing the community's political and environmental concerns and supporting its active cultural scene. Now more than ever, we need your support to continue supplying Austin with independent, free press. If real news is important to you, please consider making a donation of $5, $10 or whatever you can afford, to help keep our journalism on stands.
READ MORE
More Texecutioners
Roller Derby makes history at the Bob Bullock, plus upcoming bouts
Richard Whittaker, April 11, 2015
Two clashes to decide the championship conflict
Richard Whittaker, July 13, 2014
More WFTDA
Mile High Club swooping in to face the Texecutioner's steel
Richard Whittaker, June 14, 2014
Last year's Texas Rollergirls champs face their heirs apparent
Richard Whittaker, May 10, 2014
More by Richard Whittaker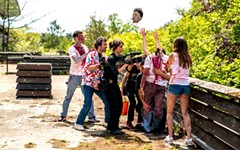 French remake of beloved Japanese movie-making comedy adds a little
Sept. 30, 2022
Wall-to-wall Godzilla in the new show, opening tonight
Sept. 30, 2022
KEYWORDS FOR THIS POST
Texecutioners, WFTDA, Detroit Derby Girls, Dairyland Dolls
MORE IN THE ARCHIVES