The Ritual of Itchy-O
The Fantastic Fest house band returns, and goes Far Out
There are no members of itchy-O. There is only itchy-O. There is no leader of itchy-O. There is only itchy-O. Denver's 57-strongmasked nightmare front line electro taiko mariachi neo-tribal collective does not perform music, it creates ritual.
Two months after completing a tetrapolar purification ceremony at the Fillmore Auditorium, the quasi-official house band for Fantastic Fest returns from a five-year hiatus for its latest Austin invocations: one for the festival faithful at the Alamo South Lamar, then a sky-carving night at the Far Out Lounge.
Itchy-O does not explain itself. At least, not in the simplistic realm of language. Not normally, anyway. Their ceremonies bind, entice, cut past the logical centers of the brain and straight to the instinctual, spiritual, cosmological, rhythmical. Neon-trimmed lion dancers whirl, dervish-style, through the crowd as leather-clad drummers hammer and whirl, and black velvet trumpeters double-time their Mexican processional through the crowd. There are provocateurs and effects wizards. "And we just made a gamelan."
Itchy-O speaks! Or, at least, a designated organ of itchy-O has been appointed to communicate in the simple words of the tongue. "We just made a gamelan," it crackles over the digital ether, "and we're talking with neuroscientists about how to create trance states and clear consciousness."
Itchy-O is not a predictable creature. It's not like some band that pops up because there's an album to tour. There's a purpose to each ceremony. They are, the voice says, a place for people "sweating their ass off, sweating it out and partying and having a good time," but there is also a space for some psycho-cosmic purgation and revival. "We see this enormous gap between dogma and New Age yoga pants, and there's a ton of weirdos who don't know where to go to meet their spiritual needs." For those people who are finding some release in the presence of itchy-O, the voice utters, "Concerts halls are designed in a way that doesn't meet their needs, and in some ways are unhealthy. ... Without any kind of baiting, they will say, 'Itchy-O is my church. Itchy-O is my temple, and this is where I go to meet my spiritual needs.'"
That's part of why itchy-O's experiences are often held in unconventional places, like art collective Meow Wolf's Convergence Station, or the crammed environment of the Highball (and the surrounding area, into which they will inevitably spill, slither, and stomp). It was one of those unusual venues - the Stanley Hotel in Estes Park, "the home of The Shining - that led them to Fantastic Fest. Elijah Wood caught their performance there as part of the Stanley Film Festival in 2015, and it was the actor that connected the cacophonous cult with FF and Drafthouse founder Tim League. Drawing on the communal memory, the voice of itchy-O recalled, "They brought us out to (Fantastic Fest 2015) and they told us, verbatim, 'We can't do this festival without you, ever again.'"
Ever is a complex concept, and after a three-year run between 2015 and 2018, there was a five-year gap. But post-pandemic, League and itchy-O reconnected. "We made a pact, and he said in the email, 'We need to tell the world that you can't keep us apart.'"
And who is the "we" of itchy-o? Purge yourself of concepts of band line-ups. itchy-O has divisions: The battery and percussion, the electronics, the special effects teams, the Kriēchén. The who? "They're the provocateurs out in the crowd," the voice explains, and their provocation is offset by the technicians of the Kāos Krëwūe, "who steer and encourage good behavior and discourage bad behavior." Then there are the creatures, the Chinese lions, the micro-elves, the totem, "all these living, weird things that are part of the performance. And then we also consider our audience and our followers and our fans as one of the divisions that all come together."
The divisions unify, and that is the nature of an itchy-O ceremony, which the voice described as "a spiritual antidote" to political carnage and the pandemic. "Artists went in two directions. A lot of people went, 'There's nothing to do here,' and we leaned in really hard, and still are dogpaddling seven times harder than we ever did before. This is what our fans need, but this is what we need."
Itchy-O at Fantastic Fest
Highball, Alamo South Lamar, Thu. 22 (Fantastic Fest badge holders only)
Far Out Lounge, Fri. 23 (w/ Thor and Friends)
---
Fantastic Fest runs in person Sept. 22-29, and online with FF@Home Sept. 29-Oct. 4. Tickets and passes at fantasticfest.com.
Follow all our coverage, news, reviews, and interviews at austinchronicle.com/fantastic-fest.
A note to readers: Bold and uncensored, The Austin Chronicle has been Austin's independent news source for over 40 years, expressing the community's political and environmental concerns and supporting its active cultural scene. Now more than ever, we need your support to continue supplying Austin with independent, free press. If real news is important to you, please consider making a donation of $5, $10 or whatever you can afford, to help keep our journalism on stands.
READ MORE
More by Richard Whittaker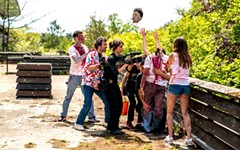 French remake of beloved Japanese movie-making comedy adds a little
Sept. 30, 2022
Wall-to-wall Godzilla in the new show, opening tonight
Sept. 30, 2022
KEYWORDS FOR THIS POST
Fantastic Fest, Fantastic Fest 2022, itchy-O, Far Out Lounge, Alamo South Lamar
MORE IN THE ARCHIVES