Five Austin Filming Locations to Make You Feel Like a Star
Get your cameras out for the most memorable Austin movie moments
Austin's the music capital of the world, right? Well, it's no slouch in the movie department either.
Famously filmmaker-friendly, Austin's streets and landmarks have been featured in dozens of movies over the decades. So whether you're heading to a Longhorns game or the Capitol, you're treading in the footsteps of Hollywood A-listers and indie icons alike.
So here are five of the most memorable movie locations around town, as featured in some of the films that made Austin the center of the Texas film industry.
And if you make it to one of these locations, take a snap, post it on social media, and don't forget to tag us:
Instagram
Facebook
Twitter
Oh, and don't miss our list of famous restaurants and diners that have been part of Austin movie history.
---
The Greyhound Station in Slacker
Austin films may not have begun with Richard Linklater's microbudget indie masterpiece, but it definitely opened the door for a new generation of low-budget filmmakers, and changed the way people saw ATX for decades to come.
So if you're taking the Greyhound to Austin for college, you'll be walking across the same parking lot where Linklater himself (playing a new arrival in town) gets into a cab from Roy's Taxis and muses about the nature of the world in the first of the rambling monologues that defined Linklater's breakthrough. Plus, if you're at ACC, you can see the original buildings of the Highland Campus in the background.
Greyhound Lines, 363 Shady
---
Saint Mary Cathedral in Machete
The other "R" of Austin filmmaking, Robert Rodriguez, made Danny Trejo a leading man with Machete, his full gonzo Mexploitation classic about the most dangerous federale in Tejas.
One of the most famous scenes is the shoot-out in a Catholic church, and while the interior was filmed on a sound stage at his Troublemaker Studios, the exterior is real: the Catholic cathedral in the heart of Downtown.
Saint Mary Cathedral, 203 E. 10th. smcaustin.org
---
McKinney Falls State Park in Predators
The second straight sequel to two-fisted, both-barrels-blazing, Arnie-vs.-alien-hunter classic Predator, 2010's Predators filmed all around Austin (yup, including at producer Rodriguez's Troublemaker), but director Nimród Antal took advantage of the otherworldly beauty of McKinney Falls and its sparkling blue waters that have carved pools and loops into the area's signature limestone.
McKinney Falls State Park, 5808 McKinney Falls. tpwd.texas.gov/state-parks/mckinney-falls
---
Darrell K. Royal-Texas Memorial Stadium in Man of the House
Attending a Longhorns home game is, for many, a rite of passage if you're a student at UT. But if you get dragged along when you'd much rather be at the movies, you can at least know you're on set for Man of the House, the 2005 comedy about a stone-faced Texas Ranger (Tommy Lee Jones, natch) assigned to guard a group of cheerleaders who witnessed a murder.
Darrell K. Royal-Texas Memorial Stadium, 2100 San Jacinto. texassports.com
---
The Capitol Rotunda in The Best Little Whorehouse in Texas
Dolly Parton is officially a national treasure (even if she and co-star Burt Reynolds were rumored to be oil and water in this 1982 raunchy musical comedy based on the real-life Chicken Ranch brothel in La Grange). But the real reason that The Best Little Whorehouse in Texas is memorable around here is because it was the first movie ever to be filmed in the Texas state Capitol. Most particularly, Charles Dunning as the weaselly governor frolicking through the rotunda while singing "Sidestepping."
Texas Capitol, 1100 Congress. tspb.texas.gov
A note to readers: Bold and uncensored, The Austin Chronicle has been Austin's independent news source for over 40 years, expressing the community's political and environmental concerns and supporting its active cultural scene. Now more than ever, we need your support to continue supplying Austin with independent, free press. If real news is important to you, please consider making a donation of $5, $10 or whatever you can afford, to help keep our journalism on stands.
READ MORE
More by Richard Whittaker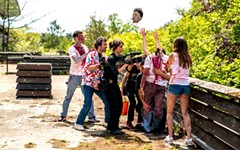 French remake of beloved Japanese movie-making comedy adds a little
Sept. 30, 2022
Wall-to-wall Godzilla in the new show, opening tonight
Sept. 30, 2022
KEYWORDS FOR THIS POST
Back to School, Back to School 2022
MORE IN THE ARCHIVES