Fantasia Review: The Fight Machine
A face-smashing, heartbreaking collision in slow motion
Everyone has a plan until they get punched in the face. But what if the plan is to get punched in the face? That's half the story of brutal bare-knuckle boxing drama The Fight Machine. The other half is a tragedy of a life where dreams are crushed in the ring, and the intrigue comes from these two parallel stories inevitably clashing.
In the blue corner is Paul Harris (Greg Hovanessian, about to turn heads as the sinister sheriff in the CW's Walker spinoff, Walker: Independence). He's a child of indulged privilege whose wealth, power, and father keep him insulated from all consequences.
In the red corner, Rob Tully (Dempsey Bryk, himself soon to star in the Disney+ sequel series to Willow). He's the sensitive son of a family of hardscrabble, hard-fisted fighters who make their money in basements and barns.
It's inevitable that the two will collide eventually, so the points to be scored by director Andrew Thomas Hunt (who co-wrote the script with Craig Davidson) are going to be in how it ducks and weaves both men into the right fighting stance. Like in actual combat sports, the key is in keeping them separate for as long as possible, so the crowd is baying to see who will take the upper hand.
But Hunt pulls a judo flip. The Fight Machine begins with a grimy cool, as Hovanessian giddily lets Paul write checks with his mouth that his fists can't cash, and so dedicates himself to becoming a genuine hardass under the tutelage of gym owner Lou (Michael Ironside, craggy and mean). Rob, by contrast, is doing his damnedest to get out of the ring, and while Hovanessian plays Paul as a spoiled brat with a track record of zero consequences, Bryk gives Rob generations of damage, expressed through his father and his uncle.
But Hunt and Davidson's script gives the audience even more to grapple with than the simplistic setup of the rich kid learning a lesson from the street punk with a heart of tarnished gold. There's no bullshit feel-good Rocky ending here. Someone's going to get hurt, badly, and the two men are both wading in very different kinds of inherited emotional damage. Indeed, it's fascinating to see exactly how Hunt creates a sealed environment for each man, with Rob's a dull world of dust motes and hand-me-down furniture, and Paul smashing through a neon-rimmed realm of PED-poisoned machismo. Self-destruction is in the air, and when the first punch is thrown, it's the last thing the audience wants to see.
That's why The Fight Machine is a gut-punch of a movie. It's not about the catharsis of a knockout blow, but the slow grind of a solid beating. It's merciless and tragic, with the ending not the intersection of the fighters' lives but the way they diverge. In its victorious resolution, there are no winners.
---
The Fight Machine screened as part of the 2022 Fantasia International Film Festival.
A note to readers: Bold and uncensored, The Austin Chronicle has been Austin's independent news source for over 40 years, expressing the community's political and environmental concerns and supporting its active cultural scene. Now more than ever, we need your support to continue supplying Austin with independent, free press. If real news is important to you, please consider making a donation of $5, $10 or whatever you can afford, to help keep our journalism on stands.
READ MORE
More by Richard Whittaker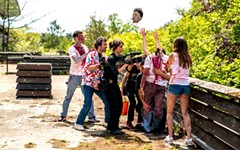 French remake of beloved Japanese movie-making comedy adds a little
Sept. 30, 2022
Wall-to-wall Godzilla in the new show, opening tonight
Sept. 30, 2022
KEYWORDS FOR THIS POST
Fantasia International Film Festival, Fantasia 2022, The Fight Machine, Andrew Thomas Hunt
MORE IN THE ARCHIVES