Fantasia Review: Orchestrator of Storms: The Fantastique World of Jean Rollin
Inside the mind and art of France's genius of decay
There's a long list of horror directors (William Lustig, Abel Ferrera, Ray Dennis Steckler, Wes Craven) who made some cash by dabbling in hardcore porn (yes, Craven – look it up). But no director seemed more set for the transition than Jean Rollin, subject of Orchestrator of Storms: The Fantastique World of Jean Rollin.
Experts in the reappraisal of Seventies schlock artists, directors Dima Ballin and Kat Ellinger have already recontextualized the creators of such ghoulish classics as Witchfinder General (The Magnificent Obsession of Michael Reeves) and The Pit and the Pendulum (The Tale of Mr Corman and Mr Poe), now the pair looks at the career of the master of the French fantastique, whose work didn't blur the line between terror and erotica, but wiped it away.
Overlooked and pigeonholed as a lesser horror director for decades (kudos for the shout-out to the yeoman's work done by Redemption Video in keeping his work available when no one else would), Rollin's films stood somewhere between the new wave of North American horror epitomized by Carnival of Souls and early Cronenberg, and art nouveau's dreamy symbolism. Surrealism, sexuality, psychedelia, and the delayed fin de siècle societal breakdown of French culture were his subject matter in superficially sleazy but secretly rich and layered films like Fascination and Grapes of Death.
Orchestrator of Storms removes Rollin from the eurosleaze enclave while not attempting to push him into the ranks of his contemporaries in the French New Wave. Those Left Bank artists regarded the death of gothic and aristocratic France, and the arrival of modernity and the new égalité, as a net positive for society. Rollin was not a reactionary, but instead a throwback, his worldview forged in the debris of the Belle Époque and its inheritance of occultism, vampire erotica, and the salon culture of his mother. Ballin and Ellinger successfully reassess his work as being not solely rooted in cinema, but in the broader swath of early 20th-century experimentalism. The more he tries to be a mainstream filmmaker, as in the hideously bad Zombie Lake (arguably the worst aquatic undead Nazi film ever), the less interesting he is. The more he indulges his own unique and dark vision, the more likely he is to produce a symbolist wonder like The Iron Rose.
There are two surprising omissions. Firstly, the lack of a visceral analysis of the sexuality in Rollin's films. The result is a highly academic discussion of how Rollin did not simply inject eroticism into his dreamlike movies but viewed it as pivotal to his recurrent themes of debauchery and decay. Yet while Rollin's career in hardcore pornography may seem like a diversion, it's not like he took up carpentry. The constant display of naked women in their 20s (and the casting of porn actress Brigitte Lahaie as both character and muse) feels like a topic that needs a less dry and more erotic analysis, or at least more weight considering that he directed more porn (if under a pseudonym) than he did his art horrors.
Secondly, there's Rollin himself – or rather, there isn't. Barring stills and a small amount of narration by Benoit Carry from Rollin's 2008 autobiography Moteur coupez! Mémoires d'un cinéaste singulier, he's there only in description and interpretation, not as himself in any archive footage. There's a reserve, a distance that sometimes leaves Orchestrator of Storms almost clinical – strange, considering that so much of Rollin's work dealt with all-consuming passion and obsession, with people whose final redemption is in submission to their whims.
But maybe that's just an argument for more films and more discussion of Rollin's work and impact. With so much analysis of his peers like Mario Bava and Jesús Franco, Orchestrator of Storms is not attempting to be a definitive biography of Rollin, but an invitation to explore the man and his work.
---
Orchestrator of Storms: The Fantastique World of Jean Rollin screened as part of the 2022 Fantasia International Film Festival.
A note to readers: Bold and uncensored, The Austin Chronicle has been Austin's independent news source for over 40 years, expressing the community's political and environmental concerns and supporting its active cultural scene. Now more than ever, we need your support to continue supplying Austin with independent, free press. If real news is important to you, please consider making a donation of $5, $10 or whatever you can afford, to help keep our journalism on stands.
READ MORE
More by Richard Whittaker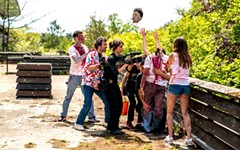 French remake of beloved Japanese movie-making comedy adds a little
Sept. 30, 2022
Wall-to-wall Godzilla in the new show, opening tonight
Sept. 30, 2022
KEYWORDS FOR THIS POST
Fantasia International Film Festival, Fantasia 2022, Orchestrator of Storms: The Fantastique World of Jean Rollin
MORE IN THE ARCHIVES