A Man Among Monsters: Elijah Wood on No Man of God
Finding the heart of the man who hunted serial killers
There are many films about serial killer Ted Bundy. No Man of God is not one of them. Instead, the biopic focuses on the man who was arguably closer to Bundy in his last few months than anyone: FBI Profiler Bill Hagmaier, played by Elijah Wood.
Much of what is known about the inner motivations of the killer come from the 200 hours of prison interviews between 1988 and 1999 that he had with Hagamier, who was one of the first profilers in the FBI Behavior Analysis Unit. And these were interviews, not traditional police interrogations, as Hagmaier wasn't looking for convictions (Bundy was already on death row). Instead, he was looking for some insight into his motivations, and to cut through his deceits to understand the man. Not that this was some academic pursuit: Hagmaier also wanted to give closure to the many families who were unsure if their missing family member was another of Bundy's victims.
Directed by Amber Sealey and starring Luke Kirby as Bundy, No Man of God avoids the bloodshed and concentrates on those interviews, and on what they meant to Hagmaier. Wood called the script by Kip Lesser (aka Austin author C. Robert Cargill) "unbelievably fascinating. Most of the script is just these conversations, and those conversations are thrilling. It's like verbal chess with these two people sitting in a room."
---
Austin Chronicle
: What was your first impression of Bill?
Elijah Wood: I wasn't familiar with him until I read the script, and so this was a whole section of Ted Bundy's life that I wasn't familiar with. Obviously I knew about his time on death row, saw the famous interview where he blames everything pornography, but I didn't know about this relationship - and a very significant one. He considered Bill his best friend towards the end of his life, and willed his last earthly possessions to him. So this really was my introduction to Bill, and it's a fascinating one.
I don't know a lot about his peers in regards to how his methodology was different, but certainly in regard to documentaries about people involved with the FBI, he does feel quite unique in his approach, in that his skill is that he disarms those that he's talking to by allowing them to be seen as human, and coming in with no judgement. I think that why Ted considered him a best friend towards the end of his life was that he felt seen as a human, and not judged. That's what's so interesting about Bill is that he's able to walk into these scenarios - he did the same with Aileen Wuornos and countless other heinous criminals - where they actually have a human exchange, and break down their own protective walls to be relatively revealing.
It's not a great manipulation on Bill's part. I think there's something genuine about it. He's a man of God, he's a man of faith, and I think that provides a rock for him, to help keep him sane between these interactions. And I think he's genuinely curious. If he comes in with anything else, some of those people will smell it a mile away, and there won't be any interaction.
AC: But the script never goes for that trope of the killer and the profiler being two sides of the same coin. It's always Bill going in to get information out of someone he will always regard as irredeemable.
EW: It is what it is on face value. It's a person coming in who's literally asking for this information, and there's nothing else to it other than that desire. Again, I think the way that he's doing that is also very pure. Granted, they're both putting on a face, on some level, and it is strategic for Bill to talk about his family, and to talk about his kids so that Ted can talk about his kids. But there's also something genuine happening there. Bill walked away from that experience with something, with an exchange that was real. Despite the fact that it's his job, despite the fact that he's going in there with a very specific mission - to get someone who would never talk to talk - it's also two people, and he walked away from that having learned about the interior of that human.
AC: When you're dealing with something based in precise details, like here with transcripts and recordings, as an actor where do you find space to create something that's not just a recitation or reenactment?
EW: I had the advantage of playing a man who is not well documented. Outside of a few interviews here and there, there's not a great familiarity with who Bill Hagmaier is in terms of how he looks and sounds - unlike Ted, where there's a great deal of familiarity with who he is. So in some ways the slightly more complex job at portraying a living, breathing person was on Luke's shoulders bringing Ted to life because there's so much interview footage, so much ephemera that allows us to paint a pretty accurate picture in our head of who he is. Bill - less so, so that was freeing.
The other thing too was that Amber wasn't interested in making it an impersonation, but she was more interested in the truth of that relationship, and what was said between the two men. So, Bill's accent's a little different from mine, and my fear if I was to go down that road was that it would feel inauthentic. So it became very clear, very quickly that I just need to be truthful to his essence, and to the way that he did his job, and to his heart.
I did speak to Bill, and he was incredibly helpful. What I found really fascinating was that I had a lot of questions for him - and this speaks to the accuracy of the script - but so many of the answers came back to everything I already knew.
"He's a man of God, he's a man of faith, and I think that provides a rock for him, to help keep him sane between these interactions." Elijah Wood on Bill Hagmaier, the FBI profiler depicted in No Man of God.
But my primary interest in speaking to him, and what I wanted to know, was what did it feel like to walk into that room? What was the preparation for that first meeting? Those were the things that I wanted to know, because if I was taking on that task, what would go through my mind, sitting in front of Ted Bundy? This notorious serial killer who also had a reputation for tearing into law enforcement. What do you think about? How do you prepare for that, emotionally?
What Bill did was that he got a lot of information from various people who had spoken to him about what to do and what not to do, so he created a relatively strong infrastructure for himself as a way to get in. So he was so helpful in that regard, and everything else I just let the script lead.
And also working opposite Luke, which gave me everything. Luke was so incredible and believable as Bundy that he really did make my job easier.
AC: This all raises a big question. The whole point of being a profiler is to understand why people do terrible things. But why do you think Bill did what he did, to sit in these rooms and listen to these horrifying stories straight from the mouths of people who committed atrocities?
EW: I think it was to help.
His path to the FBI is circuitous. It's stated in the film, but he wasn't looking to be an FBI agent. He kind of fell in to it, and I think once he got in to the FBI his desire was to help.
The majority of his career is in trying to bring closure to families, to help people. So facing that darkness, and in the early days gathering information to have more data to prevent that kind of thing from happening in future, and to help victims and their families. So it was pretty selfless in terms of what he encounters.
Having spoken to him, it's actually remarkable how easy it is for him to interweave into regular conversation, in relatively frank and matter-of-fact way, violent references, because that's so much of what he encounters and what is discussed with various criminals he's spoken with over the years. ... It's the embodiment of a professional with years of experience in that particular field.
It made me think of what doctors are like who have to operate in an E.R. They encounter heinous injuries and death on a regular basis, and are able to go home to their wives and their kids and their partners, and compartmentalize and separate it out. Bill clearly has to do that same thing, except what's he's encountering is maybe a few degrees beyond what a doctor might have to. But that same process has to take place, of putting that in its own sphere and separating that out as a means of staying happy and sane and healthy. It's kind of remarkable.
---
No Man of God is in cinemas now. Read our review and find showtimes here.
A note to readers: Bold and uncensored, The Austin Chronicle has been Austin's independent news source for over 40 years, expressing the community's political and environmental concerns and supporting its active cultural scene. Now more than ever, we need your support to continue supplying Austin with independent, free press. If real news is important to you, please consider making a donation of $5, $10 or whatever you can afford, to help keep our journalism on stands.
READ MORE
More by Richard Whittaker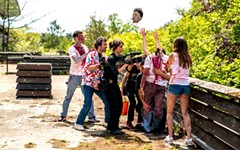 French remake of beloved Japanese movie-making comedy adds a little
Sept. 30, 2022
Wall-to-wall Godzilla in the new show, opening tonight
Sept. 30, 2022
KEYWORDS FOR THIS POST
Elijah Wood, No Man of God, Bill Hagmaier, Ted Bundy
MORE IN THE ARCHIVES