Fantasia Review: Satoshi Kon: The Illusionist
An overdue tribute to one of the greats of animation
If Hideo Miyazaki used animation to create impossible worlds, then Satoshi Kon took the medium and pushed it to create the most real world possible: immediate, recognizable, damaging, demanding. Even his fantasies felt real.
The big difference between the two came down to one reality. Miyazaki made films that Disney would distribute in the west. Kon made movies about mental collapse, identity, stardom, stalkers, psychotherapy, the universal subconscious, insidious technology, and the line between dreams and reality. Across four features (1999's psycho-horror Perfect Blue, 2003's cinematic history Millennium Actress, 2004's heartwarming comedy Tokyo Godfathers, and his swan song, 2007's reality-warping Paprika) and one series (Paranoia Agent), he pushed boundaries in a way that is more recognized now than at any point in his life.
Satoshi Kon: The Illusionist follows his career from his first fame as the visceral enfant terrible of the manga industry to the director who came along at just the right moment as the post-Akira wave of translated Japanese culture swept europe and America, to his tragic death in 2010. For anyone who wants to claim that Black Swan ripped off Perfect Blue, Darren Aronofsky is one of the first talking heads to sing the praises of his friend and peer, while contemporaries of Kon's early work note how much he took from Akira creator Katsuhiro Otomo, both visually and narratively, but also from dozens of other influences, from Kurt Vonnegut to John Ford.
Documentarian Pascal-Alex Vincent (Miwa: Looking for Black Lizard) assembles an astonishing document about the complicated threads and fascinations that wove Kon's curtailed filmography together - even if he can never quite get the same kind of insight into the man himself. Yet that's neither what he was setting out to do, nor was it an achievable aim. The glimpses of the artist show him as mercurial and often self-contradictory: like his dedication to reforming the notoriously draconian and dictatorial anime industry while at the same time being a demanding martinet.
Yet this film is about the artist, not the often reticent and rarely-spotted man. This is where Vincent doesn't simply make an argument to put Kon up there with Miyazaki. Instead, The Illusionist is a full scale reappraisal that treats him as a major director to be discussed in new contexts. Indeed, the frustration that he was ever lumped in with the Studio Ghibli creative force is a rippling wave throughout the film, a curse that afflicted him in international reviews that always made the creative comparison, and Japanese studios who were looking to replicate Miyazki's commercial success. Finally, his work is a mainstay of repertory programming and Blu-ray re-releases, and his influence is clear in the works of game changing modern animators like Masaaki Yuasa (The Night is Short, Walk on Girl, Mamoru Hosoda (Summer Wars, Mirai), and , and Rodney Rothman (Spider-Man: Into the Spider-Verse). Yet what he did for them was to expand the view of filmmaking to which they were allowed to aspire. His career is a reminder that animation is a medium, not a genre.
---
Satoshi Kon: The Illusionist screens as part of the Fantasia International Film Festival running Aug. 5-25. Info and virtual passes at fantasiafestival.com.
A note to readers: Bold and uncensored, The Austin Chronicle has been Austin's independent news source for over 40 years, expressing the community's political and environmental concerns and supporting its active cultural scene. Now more than ever, we need your support to continue supplying Austin with independent, free press. If real news is important to you, please consider making a donation of $5, $10 or whatever you can afford, to help keep our journalism on stands.
READ MORE
More by Richard Whittaker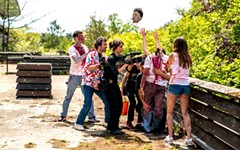 French remake of beloved Japanese movie-making comedy adds a little
Sept. 30, 2022
Wall-to-wall Godzilla in the new show, opening tonight
Sept. 30, 2022
KEYWORDS FOR THIS POST
Fantasia 2021, Fantasia International Film Festival, Satoshi Kon: The Illusionist
MORE IN THE ARCHIVES