AFS Opens 2021 Short Film Grant Applications
Society will run webinars to help you apply
Austin Film Society has announced that applications are now being accepted from filmmakers working on short projects for the AFS Grants.
Since the grant program began in 1996, over $2 million in cash and $340,000 in in-kind goods has been handed out to Texas filmmakers, and the shorts grants have been just as significant as the feature grants (which have their own grant cycle, earlier in the year). Before she was showrunner for the O Network's Queen Sugar, Kat Candler received $3,000 for post-production on her short, "Black Metal." Before she took her rodeo drama Bull to Cannes and SXSW, Annie Silverstein took home $1,000 for "Skunk." Even David Lowery, who helmed the incredible Arthurian tale The Green Knight, got his career moving with $1,000 for production and an extra $1,000's worth Kodak filmstock on his 2007 experimental short, "The Outlaw Son."
The grants are administered by AFS, which is a 501(c)3 non-profit, and is supported by Oak Cliff Film Festival, Ley Line Entertainment, Kat Candler, MPS Camera and Lighting, and Stuck On On, in addition to the City of Austin Economic Development Department/Cultural Arts Division and the Texas Commission on the Arts.
Looking for some advice on how to apply? There'll two Zoom workshops (6pm, Wed., Aug. 11 and 5pm, Thurs., Sept. 2) to help you through the process (rsvp here).
Find all the forms and details at austinfilm.org. The application window closes 6pm, Sept. 13.
A note to readers: Bold and uncensored, The Austin Chronicle has been Austin's independent news source for over 40 years, expressing the community's political and environmental concerns and supporting its active cultural scene. Now more than ever, we need your support to continue supplying Austin with independent, free press. If real news is important to you, please consider making a donation of $5, $10 or whatever you can afford, to help keep our journalism on stands.
READ MORE
More by Richard Whittaker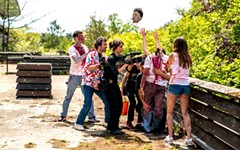 French remake of beloved Japanese movie-making comedy adds a little
Sept. 30, 2022
Wall-to-wall Godzilla in the new show, opening tonight
Sept. 30, 2022
KEYWORDS FOR THIS POST
Austin Film Society, AFS Grants
MORE IN THE ARCHIVES