aGLIFF Goes to Hollywood for Boulevard!
Plus Madeleine Olnek is this year's aGLIFF Legend
aGLIFF is ready for its closeup! The All Genders, Identities, and Lifestyles Film Festival Aug. 26-Sept. 6) has announced that Boulevard! A Hollywood Story, exploring the fascinating failed first attempt to turn Sunset Boulevard into a musical, will be this year's centerpiece movie.
Yes, before Andrew Lloyd Webber turned it into a Broadway smash, before Sondheim's failed draft, star Gloria Swanson herself turned it into a passion project with a happy ending - at least for her character, the faded starlet Norma Desmond. Yet her efforts with writers Dickson Hughes and Richard Stapley became subject to as much gossip as Desmond's exploits, and now the Hollywood myth will be revealed in this documentary from Jeffrey Schwarz (Tab Hunter Confidential).
Having already announced Blitzed: The 80s Blitz Kids Story as its opening night film (see "aGLIFF Gets Blitzed for its Return to the Paramount," July 3), the festival will also host a 10th anniversary screening of Codependent Lesbian Space Alien Seeks Same from aGLIFF Legacy Honoree Madeleine Olnek (Wild Nights With Emily. She joins a roster of previous recipient including Yen Tan (1985), Rose Troche (Bedrooms and Hallways), and Jim Fall (Trick).
Also added to the lineup:
Invisible
D: T.J. Parsell
USA, 107 min., Southwest Premiere
Country music is finally coming out of the closet. The contributions of lesbian singer-songwriters are generally not the first thing that come to mind in the arena of country music, but some of the greatest hits in the genre are the work of these badass women writing, producing, and persevering in an extremely traditional and corporate industry that requires most to keep their authentic selves secret for fear of committing career suicide. Featuring Ruthie Foster, Bonnie Baker, Linda Ronstadt, Emmylou Harris, and Pam Tillis.
Beyto
D: Gitta Gsell
Switzerland, 98 min., Southwest Premiere
Talented swimmer, motivated apprentice: Beyto is in the midst of life, with a bright future ahead of him. One would think. But when the only son of a Turkish migrant family falls in love with his coach Mike, an ideal world falls to pieces. Ashamed, his parents see only one way out: they lure Beyto to their home village to marry him off to his childhood friend Seher. Beyto finds himself in a disruptive love triangle: How can he get back to Mike without destroying Seher's future?
Leading Ladies
D: Ruth Caudeli
Colombia, 81 min, Southwest Premiere
A welcome dinner is the excuse to discover that we always keep a secret from those who know us the best. Five points of view that show that each of these five girls tries, as best they can, to lead their own lives. Some lies have been saved for years, other were hidden for months… But many of them will come to light during this special meeting. Guilt affects everyone in different ways.
Queendom
D: Marco Novoa, Simon Vivier
France, 62 min., Southwest Premiere
The Paris ballroom scene has grown enormously over the past several years. As France grapples with the COVID crisis, three artists working in this resurgent subculture struggle with day-to-day challenges as they keep their eye on the throne. Misha, of the famed House of LaDurée balances studying for his high school exit exam and for two important balls. Romain believes drag is a form of political activism. Cookie Kunty, his drag queen alter ego, will be acting in their 2nd short film this year, hoping to take drag mainstream and reach as wide an audience as possible. Le Filip, a 25-year-old drag queen stand-up comic, is busy writing and putting together his first one-queen show. Beautiful cinematography and intimate profiles pull the queens to the front of the runway.
aGLIFF Prism 34 runs Aug. 26-Sept. 6. Passes and info at agliff.org.
A note to readers: Bold and uncensored, The Austin Chronicle has been Austin's independent news source for over 40 years, expressing the community's political and environmental concerns and supporting its active cultural scene. Now more than ever, we need your support to continue supplying Austin with independent, free press. If real news is important to you, please consider making a donation of $5, $10 or whatever you can afford, to help keep our journalism on stands.
READ MORE
More by Richard Whittaker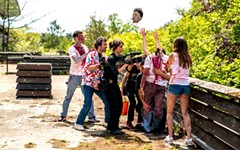 French remake of beloved Japanese movie-making comedy adds a little
Sept. 30, 2022
Wall-to-wall Godzilla in the new show, opening tonight
Sept. 30, 2022
KEYWORDS FOR THIS POST
aGLIFF, Boulevard! A Hollywood Story, Sunset Boulevard, Madeleine Olnek
MORE IN THE ARCHIVES