Paramount Summer Season Has a Giant Ending Lined Up
Wizards, restoration, and l'amour round out the classics
The 46th Annual Paramount Summer Classic Film Series, as the name implies, is as long and as fleeting as the season. But the beloved program still has a long way to go, and many movie memories, before it finishes with the newly-announced 65th anniversary screening of Giant.
The venerable theatre announced the first half of its annual celebration of global cinema from across the decades back in May, and now it's filling out the rest of the lineup with a selection of old favorites, rarities, and joyful must-sees to add to your watch list.
Encore
Films so nice they had to show them (at least) twice. The Beatles basically inventing the rock movie with 1964's no-laughs-barred comedy A Hard Day's Night (Sun., July 18, 1pm; Tue., July 20, 7:30pm), followed by a Texas favorite with Selena (Sun., July 18, 3:50pm; Wed., July 21, 7:30pm)
Rooting for the Underdogs
Nothing stirs an audience like watching the little guy get the big win, so it's two tales of political up-punchers with Mr. Smith Goes to Washington (Thu., July 22, 7pm) All the President's Men ( Fri., July 23, 7pm). Unlikely heroes have rarely been sweeter than Babe (Sun., July 25, 1pm), or tougher than Creed (Sun., July 25, 3:55pm).
Nominated for Best Screenplay
A tribute to Oscar-nominated scriptwriters, starting with Sunset Boulevard (Tue., July 27, 7:30pm), Moonstruck (Wed., July 28, 7:30pm), Butch Cassidy and the Sundance Kid (Thu., July 29, 7:30pm), Dr. Strangelove or: How I Learned to Stop Worrying and Love the Bomb (Fri., July 30, 7:30pm), and Amadeus (Sun., Aug. 1, 1pm). Then it's a reminder that you don't always have to be highbrow to write a script that touches the heart, as shown by the Oscar-nominated E.T. The Extra-Terrestrial (Sat., July 31, 1pm), Back to the Future (Sat., July 31, 4:15pm). Plus, is it really the Summer classics without Some Like It Hot (Wed., Aug. 4, 7:30pm) or The Graduate (Thu., Aug. 5, 7:30pm), before the fest wraps up with a modern classic - Get Out (Fri., Aug. 6, 7:30pm)
Lawrence of Arabia
A movie so big that it earns its own category. Catch David Lean's desert expert of imperialism gone askew Sat., Aug. 7, 1pm or Sun., Aug. 8, 1pm.
Lost and Found
The history of mangled movies dates back to the day a producer first picked up a pair of scissors, and while Orson Welles' 148 cut of The Magnificent Ambersons (Tue., Aug. 10, 7:30pm) is missing, at least we have the 88 minute cut to hint at its genius. Still, the hunt goes on for the lost version, and hope springs eternal: after all, the 1954 version A Star Is Born (Wed., Aug. 11, 7pm) was taken back to its full 176 minute glory back in 1983. As for the Spanish-language version of Drácula (Thu., Aug. 12, 7:30pm), its story of how George Melford used Todd Browning's sets and imagery to inspire a very different riff on Bram Stoker's story of bloodlust is almost as fascinating as the film itself.
Monster Bash
Can you have Drácula without Dracula? Of course not, and he's bringing another friend, The Wolf Man, for a special Universal Monsters double bill for their 90th and 90th anniversaries, respectively (Fri., Aug. 13, 7pm).
Difficult Dads
The complicated relationships between fathers and their children can lead to deeper bonds a la Indiana Jones and the Last Crusade (Sun., Aug. 15, 1pm) and Columbus (Sun., Aug. 15, 4:30pm), deeper understanding as in The Tree of Life (Mon., Aug. 16, 7pm), deeper animosity as captured in There Will Be Blood (Tue., Aug. 17, 7pm), or just good old fashioned lifelong trauma of the Kubrickian flavor in The Shining (Wed., Aug. 18, 7pm)
Amour
A celebration of romance in the language of love, as French-language cinema gives us Beauty and the Beast (Sun., Aug. 22, 1pm), The Umbrellas of Cherbourg (Sun., Aug. 22, 3:55pm), and Portrait of a Lady on Fire (Tue., Aug. 24, 7:30pm).
The Future by Philip K. Dick
The master of psychotropic SF conspiracy novels, Dick's works seem to transfer best when directors take great freedoms. That's how we got Blade Runner (Wed., Aug. 25, 7:30pm; Sat., Aug. 28, 1pm) out of Do Androids Dream of Electric Sheep, and the brief "We Can Remember it For You Wholesale" became the gonzo Total Recall (Sat., Aug. 28, 4:20pm).
Harry Potter Turns 20
With the 20th anniversary of the magical movie, take a trip back to Hogwarts with Harry Potter and the Sorcerer's Stone (Sun., Aug. 29, 1pm; Mon., Aug. 30, 7pm).
The James Dean Trilogy
He only managed three leading film roles before his tragic death, but what a legacy he left behind, and the Paramount is screening the whole trio: his unforgettable headlining debut in East of Eden (Tue., Aug. 31, 7:30pm), the invention of the modern teen in Rebel Without a Cause (Wed., Sep 1, 7:30pm), and then the summer wraps up with a celebration of the 65th anniversary of the Texas epic, the inimitable Giant (Thu., Sep 2, 7pm).
Tickets and info at www.austintheatre.org/film/classic-film-series.
A note to readers: Bold and uncensored, The Austin Chronicle has been Austin's independent news source for over 40 years, expressing the community's political and environmental concerns and supporting its active cultural scene. Now more than ever, we need your support to continue supplying Austin with independent, free press. If real news is important to you, please consider making a donation of $5, $10 or whatever you can afford, to help keep our journalism on stands.
READ MORE
More by Richard Whittaker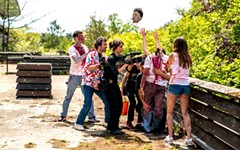 French remake of beloved Japanese movie-making comedy adds a little
Sept. 30, 2022
Wall-to-wall Godzilla in the new show, opening tonight
Sept. 30, 2022
KEYWORDS FOR THIS POST
Paramount Classic Film Series, Paramount Theatre, Giant, James Dean, Philip K. Dick, The Magnificent Ambersons
MORE IN THE ARCHIVES