What's Next for RWBY?
Highlights of this week's panels from RTX
For fans of RWBY, the American anime from Austin's online studio Rooster Teeth, the highlight of the annual RTX festival is news about the signature series. Even though the gathering had to go online this year, there's still been plenty of excitement and previews - including a first look at Volume 9.
The animated adventures of the monster-hunting Team RWBY, aka Ruby Rose (voiced by Lindsay Jones). Weiss Schnee (Kara Eberle), Blake Belladonna (Arryn Zech ) and Yang Xiao Long (Barbara Dunkelman), have become a genuine international phenomenon and such a core property for the Austin-based studio that it got not one but three panels at this week's virtual festival. Here are the highlights, and some big teases for what lies ahead for the show and its fans.
Volume 9
Of course, what's most important is the show, and Volume 8 didn't so much end on a cliffhanger as a complete drop. The long running metaphor of falling that has appeared in so many teases over the years has raised one question: what happens when you land? This work-in-progress glimpse shows that answer as … well, the big mysteries of Volume 8 become even more mysterious as Ruby seems to leave the world of Remnant behind. Quite literally.
Volume 9 Chapter 1 Teaser Trailer first seen exclusively at RTX at Home 2021! pic.twitter.com/ufZmD0i7WA

— Rooster Teeth (@RoosterTeeth) July 9, 2021
The makers promise a lighter story after the near-apocalyptic last season (which wouldn't be hard). No word yet on a release date, but Volume 8 arrives on Blu-ray Nov. 23.
Games
The big news was the announcement of RWBY Arrowfell, a Metrovania-style 2D scroller with an emphasis on combat. Set during Volume 7, players will get to select from the entirety of Team RWBY, plus a new team will be introduced, as the world of Remnant welcomes Bianca, Roane, Ivy, and Ruda, aka Team BRIR. The game is being developed and published by WayForward and Arc System Works with Rooster Teeth (which has provided six minutes of brand new cinematic animation) for Playstation, Xbox, Nintendo Switch, and PC. Expected release date: 2022.
And yes, it's already picked up the nickname RWBY AF. Here's the first trailer:
That's not the only gaming news. Specialty publishers Limited Run have teamed up with Aspyr and Rooster Teeth for a physical release of the Definitive Edition of beat 'em up RWBY: Grimm Eclipse for the Switch. Orders for the region-free physical cartridge (including a full-color manual) open Sunday, July 16 at www.limitedrungames.
If card games are more your speed, expect a RWBY-themed trial deck and booster for Weiss Schwarz, the combat system from Japanese publisher Bushiroad.
Merch
Of course, it wouldn't be RTX if there wasn't a whole bunch of merch (even if the virtual version means no trawling through booths).
• Remnant Quest is the new line of t-shirts, hoodies, and even dice accessories inspired by tabletop gaming and the RWBY: The Grimm Campaign series.
• Fans of the official manga anthology from Viz, mark July 20 on your calendar, as Vol. 5 (featuring Team JNPR) arrives in stores.
• A new series of figures from chibi experts Q Posket, based on RWBY's costumes from Volumes 4-6.
Check for the new merch at store.roosterteeth.com.
RTX 2021 runs through July 17: watch for free at roosterteeth.com.
A note to readers: Bold and uncensored, The Austin Chronicle has been Austin's independent news source for over 40 years, expressing the community's political and environmental concerns and supporting its active cultural scene. Now more than ever, we need your support to continue supplying Austin with independent, free press. If real news is important to you, please consider making a donation of $5, $10 or whatever you can afford, to help keep our journalism on stands.
READ MORE
More by Richard Whittaker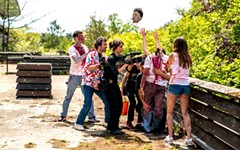 French remake of beloved Japanese movie-making comedy adds a little
Sept. 30, 2022
Wall-to-wall Godzilla in the new show, opening tonight
Sept. 30, 2022
KEYWORDS FOR THIS POST
MORE IN THE ARCHIVES