Bears Rebecca Fonté Joins aGLIFF as Artistic Director
Festival rebranding as PRISM for new era
Big news at Austin's oldest film festival: Bears Rebecca Fonté will be Jim Brunzell's successor as artistic director for aGLIFF, the All Genders, Lifestyles, and Identities Film Festival.
The festival announced Brunzell's departure in December after seven years of helping raise the festval;s profile. Now he will be replaced by another fixture on Austin's festival scene. Fonté was previously Director of Programming for Austin Film Festival, most especially overseeing the Dark Matters strand, before founding the sci-fi-centric Other Worlds Film Festival. She has also been a member of the aGLIFF board since 2016, while more recently joining the board of the Film Festival Alliance.
"aGLIFF is such a fundamental part of my own personal coming out story – it was the first place I saw my internal self on screen. I couldn't be more honored to step into the programmer's seat," said Fonté. "I'm sure when Scott Dinger founded this festival, he could never have imagined how much it would mean to so many people. I can only aspire to live up to all the great programmers who came before me."
Fonté will oversee the 34th iteration of the festival, which will finally see the change from its established title to what has become its tagline for the last two years: PRISM. She explained, "I have always wanted us to be a 'one word' fest – a festival who can declare who they are in a single statement. PRISM encapsulates the spirit of aGLIFF just like a prism captures light, splitting it into many colors. We take the light of film (or a cinema projector) and reveal the many voices that make up our community. And prisms work both ways, if you put one in front of separate colors it combines them into one fused beam. As aGLIFF presents our official PRISM Festival in 2021, I am flattered to get to be the first programming director to work under the light of that vision."
A note to readers: Bold and uncensored, The Austin Chronicle has been Austin's independent news source for over 40 years, expressing the community's political and environmental concerns and supporting its active cultural scene. Now more than ever, we need your support to continue supplying Austin with independent, free press. If real news is important to you, please consider making a donation of $5, $10 or whatever you can afford, to help keep our journalism on stands.
READ MORE
More by Richard Whittaker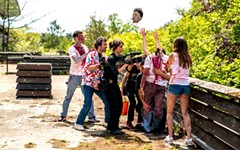 French remake of beloved Japanese movie-making comedy adds a little
Sept. 30, 2022
Wall-to-wall Godzilla in the new show, opening tonight
Sept. 30, 2022
KEYWORDS FOR THIS POST
aGLIFF, PRISM, Bears Rebecca Fonté, Jim Brunzell
MORE IN THE ARCHIVES