Austin Film Festival Adds Nine Days and Welcomes the WWE's Brothers of Destruction
New Winston Duke/Zazie Beets movie as opening night film
Austin Film Festival is only a week away, but they've just added nine days - or rather, Nine Days, the new Sundance award-winning tale of redemption and lives yet to be lived starring Winston Duke(Us), Zaziae Beets (Atlanta), Benedict Wong (Doctor Strange), and Tony Hale (Arrested Development).
The story of a man (Duke) whose job it is to judge which fresh souls should be born, it will be this year's opening night film when the virtual festival kicks off on Oct. 22. As for the centerpiece film, AFF has added Farewell Amor, about how a divided family of Angolan refugees is brought together by a shared love of dance.
Plus there won't just be one but two closing night films, starting with David Bowie biopic Stardust (which will also be part of the newly-announced Sound Unseen music movie festival, and new wrestling documentary Brothers of Destruction. For over two decades, Mark Calaway and Glenn Jacobs have performed in the WWE as the Undertaker and Kane, better known as the Brothers of Destruction. Callahan has stepped away from the ring, and the world's biggest wrestling organization has spent this year marking 30 Years of the Deadman. This latest installment explores the on-screen, in-ring, and personal chemistry between the two men, and
Austin Film Festival runs Oct. 22-29. Follow all our coverage, news, reviews, and interviews, at austinchronicle.com/austin-film-festival, and pick up this week's issue of the Chronicle for interviews with some of this year's filmmakers and stars, including:
• Anne Rapp on her 20-year journey to film Horton Foote: Road to Home
• Chaz Bono explains his fascination with cults in Reboot Camp
• Jason Neulander taking an old script from stage to screen in Fugitive Dreams
• and Cassie Hay making her new Roller Derby documentary, Queens of Pain, a family affair.
Now here's today's additions:
---
OPENING NIGHT FILM
Nine Days
Director: Edson Oda (USA, 124 min)
Will (Winston Duke) spends his days in a remote outpost watching the live Point of View (POV) on TV's of people going about their lives, until one subject perishes, leaving a vacancy for a new life on earth. Soon, several candidates — unborn souls — arrive at Will's to undergo tests determining their fitness, facing oblivion when they are deemed unsuitable. But Will soon faces his own existential challenge in the form of free-spirited Emma (Zazie Beetz), a candidate who is not like the others, forcing him to turn within and reckon with his own tumultuous past. Fueled by unexpected power, he discovers a bold new path forward in his own life. Making his feature-film debut after a series of highly acclaimed and award-winning short films and music videos, Japanese Brazilian director Edson Oda delivers a heartfelt and meditative vision of human souls in limbo, aching to be born against unimaginable odds, yet hindered by forces beyond their will ...
---
CENTERPIECE FILM
Farewell Amor
D: Ekwa Msangi (USA, 95 min)
Reunited after 17 years apart, an Angolan immigrant welcomes his wife and daughter into his tiny Brooklyn apartment. Now strangers, they find common ground in their shared love of dance.
---
CLOSING NIGHT FILMS
Brothers of Destruction
D: Kieran Bent (USA, 60 min)
Forever linked as sports entertainment's most enigmatic and popular characters, The Undertaker and Kane shed their on-screen personas for a historic conversation at Austin's Zach Theatre as part of WWE's "30 Years of The Deadman" celebration. With over three decades as one of the industry's biggest box office draws, The Undertaker's rise to stardom is forever connected to his mysterious counterpart from the dark side, Kane. Both in the ring and off screen, Mark Calaway & Glenn Jacobs developed a deep friendship that is revealed in this film. The latest presentation from WWE Network Documentaries, Brothers of Destruction brings the audience behind the curtain with untold stories and rare footage of this unbreakable bond.
Stardust
D: Gabriel Range (UK, 109 min)
Stardust will chronicle the young David Bowie's first visit to the US in 1971—a trip that inspired the invention of his iconic alter ego Ziggy Stardust.
A note to readers: Bold and uncensored, The Austin Chronicle has been Austin's independent news source for over 40 years, expressing the community's political and environmental concerns and supporting its active cultural scene. Now more than ever, we need your support to continue supplying Austin with independent, free press. If real news is important to you, please consider making a donation of $5, $10 or whatever you can afford, to help keep our journalism on stands.
READ MORE
More by Richard Whittaker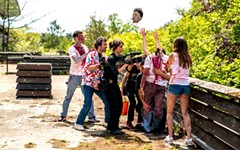 French remake of beloved Japanese movie-making comedy adds a little
Sept. 30, 2022
Wall-to-wall Godzilla in the new show, opening tonight
Sept. 30, 2022
KEYWORDS FOR THIS POST
Austin Film Festival, Austin Film Festival 2020, AFF 2020, Nine Days, Winston Duke, Zazie Beets, Stardust, Brothers of Destruction, The Undertaker, Kane, Mark Calaway, Glenn Jacobs, WWE, Farewell Amor, Stardust
MORE IN THE ARCHIVES