Coming Attractions
Our guide to which Austin-area cinemas (may) re-open in July
Hollywood keeps pushing its big releases back, but indoor cinemas are slowly reopening. The drive-ins have been filling most movie needs during the pandemic lockdown, with a handful of picture houses following suit. However, July seems to be when the rest are going to start following suit.
Here's a quick calendar of who is currently scheduled to start screening again. Remember, check their requirements and rules about masks, hygiene, seating, and concessions before you go, and please don't take frustrations out on the hard-working staff.
Already Open
Blue Starlite Min-Urban Drive-In (Mueller and Round Rock locations)
www.bluestarlitedrivein.com
Doc's Drive-In Theatre (Buda) www.docsdriveintheatre.com
Evo Creekside Cinemas (New Braunfels) www.evocinemas.com
iPic (Austin, open Thursday-Sunday only) www.ipic.com
July 8
EVO Belterra (formerly Sky) and Springtown (San Marcos)
July 10
Regal: The national chain has announced it will start reopening locations mid-July.
www.regmovies.com
July 15
EVO San Marcos Starplex
July 17
Galaxy Highland
July 22
Evo Fredericksburg
July 24
Cinemark: Southpark Meadows (Austin); Hill County Galleria; (Bee Caves), Cedar Park; Stone Hill Town Center, 20 and XD (Pflugerville); 14 and Movies 8 (Round Rock).
www.cinemark.com
July 30
AMC: The world's largest national chain has announced it will start reopening a number of locations. No word on which, if any, Austin sites will be included. www.amctheatres.com
Coming Soon
AFS Cinema: As one of the first theaters to pioneer virtual releases (whereby you rent a film like a regular VOD, but the cinema gets a split of the "ticket" price, the Austin Film Society is still offering those films through
www.austinfilm.org/virtual-screenings
.
Alamo Drafthouse: The Austin-based chain has yet to confirm reopening dates, but has already issued its rules for when it does. It has promised that couple of locations will reopen in July to test those protocols. For now, it's offering its curated VOD service, Alamo On Demand, at ondemand.drafthouse.com.
Flix Brewhouse: The brewery/cinema has announced it would reopen at some point prior to the release of Tenet, currently scheduled for Aug. 12. www.flixbrewhouse.com
Paramount: The Summer Film Series is normally in full swing by now, but the historic theater has pushed its annual celebration of the classics back to some time in August. www.austintheatre.org.
Violet Crown Cinema: The min-chain is still offering virtual cinema releases via austin.violetcrown.com
A note to readers: Bold and uncensored, The Austin Chronicle has been Austin's independent news source for over 40 years, expressing the community's political and environmental concerns and supporting its active cultural scene. Now more than ever, we need your support to continue supplying Austin with independent, free press. If real news is important to you, please consider making a donation of $5, $10 or whatever you can afford, to help keep our journalism on stands.
READ MORE
More by Richard Whittaker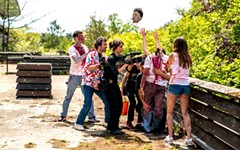 French remake of beloved Japanese movie-making comedy adds a little
Sept. 30, 2022
Wall-to-wall Godzilla in the new show, opening tonight
Sept. 30, 2022
KEYWORDS FOR THIS POST
Coronavirus, Alamo Drafthouse, AFS Cinema, AMC, Cinemakr, EVO, Paramount Theater, Regal, Violet Crown Cinema
MORE IN THE ARCHIVES