Top 10 Most-Read Screens Stories of 2019
Rooster Teeth, Rooster Teeth, and more Rooster Teeth
No getting around it: 2019 was the year of Rooster Teeth, and when it came to news about the Austin online studio, you - the reader - couldn't get enough. So guess how many of this year's top 10 most-read screens stories are about the house that Red vs. Blue built?
---
1: "Rooster Teeth Announces Layoffs, Restructuring," Sept. 12
When Rooster Teeth was folded into AT&T's WarnerMedia, it was inevitable that there would be restructuring and layoffs, but their loyal fanbase was caught off-guard by the scale of lost positions announced in September. Read the full story here.
---
2: "Division Head Steps Down at Rooster Teeth Animation," June 17
The first high-profile departure at RT: Grey Haddock had overseen the development and gen:LOCK, the studio's new big success. He'd brought in A-list talent including Michael B. Jordan, and the show is now heading to HBO Go, but his exit sent a shockwave through fans. Read the full story here.
---
3: "Massive Shakeup in Top Management at Rooster Teeth," Sept. 24
The changes at Rooster Teeth just kept coming. With TV veteran Jordan Levin taking over as general manager, many members of the Rooster Teeth team that had found their time split between administrative and creative roles moved over to solely creative positions, marking a radical change in the company's internal structure. Read the full story here.
---
4: "Seven Things We Learned From the RWBY Panel at RTX," July 8
It wasn't all corporate reshuffles and exits this year at Rooster Teeth: In July at the annual RTX celebration, the team dropped a lot of new details about the upcoming season 7 of their breakout American anime RWBY, as well as new comics and spin-off titles. Read the full story here.
---
5: "Send in the Clown," Sept. 20
Who doesn't love a clown? Well, if they're the child-scaring, childhood-scarring Wrinkles the Clown, star of Michael Beach Nichols' Fantastic Fest documentary ... well, still everyone. Read the full story here.
---
6: "RTX Animation Heads Into Final Space," May 1
You thought we were done with Rooster Teeth? Not quite yet. The announcement that TBS would be bringing new episodes of science-fiction comedy Open Space and Austin's Powerhouse Animation would be showing footage from their new show Seis Manos at RTX 2019 was our sixth most read story of the year. Read the full story here.
---
7: "Wizards of the Coast Opening New Austin Studio," April 25
Good news for Austin's game players and game developers alike. In April, tabletop, RPG and PC experts Wizards of the Coast announced that they are opening a new studio here and they had lured James Ohlen (Baldur's Gate, Dragon Age: Origins out of semi-retirement to head up the team. Read the full story here.
---
8: "Alamo Drafthouse South Lamar Renamed Bong Joon-Ho Cinema," Sept. 26
The Drafthouse has named individual screens at its flagship South Lamar location after members of the Alamo family, but this year they took the extraordinary step of naming the entire site the Bong Joon Ho Cinema, on the same evening that the Korean filmmaker delivered the local premiere of his Oscar-touted drama Parasite. Read the full story here.
---
9: "6 Austin-Based Podcasts You Should Be Listening To," June 17
Two turntables and a microphone may have been where it was at, but now it's two mics and a great story, as Katelyn Landry showed with her guide to a half-dozen of the best local online shows, from original horror stories to beer guides. Read the full story here.
---
10: "New Web Series Gentrified Reveals the Reality of Displaced East Austin," Nov. 29
The cultural and sociological impact of gentrification in East Austin has dominated the city's political debate for decades, so it's no wonder that you were eager to read about Tia Williams' new show about three young people facing the seemingly age-old conundrum. Read the full story here.
A note to readers: Bold and uncensored, The Austin Chronicle has been Austin's independent news source for over 40 years, expressing the community's political and environmental concerns and supporting its active cultural scene. Now more than ever, we need your support to continue supplying Austin with independent, free press. If real news is important to you, please consider making a donation of $5, $10 or whatever you can afford, to help keep our journalism on stands.
READ MORE
More by Richard Whittaker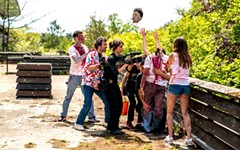 French remake of beloved Japanese movie-making comedy adds a little
Sept. 30, 2022
Wall-to-wall Godzilla in the new show, opening tonight
Sept. 30, 2022
KEYWORDS FOR THIS POST
Top 10s 2019, Rooster Teeth, Gentrified, Alamo Drafthouse, Wrinkles the Clown, RWBY, Gray Haddock, Final Space, RTX
MORE IN THE ARCHIVES