Austin Film Critics Pick Top Five Austin Films
Oscar winners and indie faves, but which will be the top ATX film of 2019?
Every year, the Austin Film Critics Association selects its top film made in Austin or by a local director as its Austin Film, and the association has just announced its short list of the five finalists in this year's poll.
The short list was selected by a special jury of association members, and the final winner will be selected by the entire body, to be announced on Jan. 6, 2020. And keep your calendar clear for Jan. 22: there will be a special screening for the winner at AFS Cinema, courtesy of the Austin Film Society. Now here are this year's nominees:
---
Frances Ferguson
A tale of a small-town scandal, developed in Austin and shot in Nebraska. Read all about its production in our interview with director Bob Byington and star Kaley Wheless, "
Small-Town Sins
," March 8.
---
A Hidden Life
The highly-anticipated life story of conscience objector Franz Jägerstätter (August Diehl), an Austrian farmer who refused to fight for the Nazi Third Reich, has been called a return to form for Malick. Find out yourselves when it opens in Austin next week.
---
The River and the Wall
Everyone knows that the border wall would be a catastrophe for the environment and communities, but this documentary hiking, biking, canoeing and riding its stretch through Texas could change the conversation. Read our four-star review
right here
, and also our interview with director Ben Masters and producer Hillary Pierce, "
A Wilderness Without Divisions
," May 3.
---
Running with Beto
Talk about right place, right time: Documentarian David Modigliani managed to get in the car with Beto O'Rourke just as his vital 2018 U.S. Senate campaign was starting to get traction. Read our review
here
, and our interview with Modigliani, "
In Beto O'Rourke's Passenger Seat
," March 8.
---
Where'd You Go, Bernadette
The Oscar-winning filmmaker goes even deeper with his newest theme – the perils and possibilities of late middle-age – with his story of a genius trying to find herself again. Read our review
here
and our interview with Linklater about his literary adaptation and personal fascination with architecture, "
Brick by Brick, Frame by Frame
," Aug. 16.
A note to readers: Bold and uncensored, The Austin Chronicle has been Austin's independent news source for over 40 years, expressing the community's political and environmental concerns and supporting its active cultural scene. Now more than ever, we need your support to continue supplying Austin with independent, free press. If real news is important to you, please consider making a donation of $5, $10 or whatever you can afford, to help keep our journalism on stands.
READ MORE
More by Richard Whittaker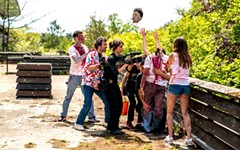 French remake of beloved Japanese movie-making comedy adds a little
Sept. 30, 2022
Wall-to-wall Godzilla in the new show, opening tonight
Sept. 30, 2022
KEYWORDS FOR THIS POST
AFCA, Austin Film Critics Association, Frances Ferguson, A Hidden Life, The River and the Wall, Running With Beto, Where'd You Go, Bernadette, Bob Byington, Terrence Malick, Ben Masters, David Modigliani, Richard Linklater
MORE IN THE ARCHIVES