Catch Lucky McKee's Newest Film Tonight
Kindred Spirits gets sneak preview on Lifetime Movies tonight
A new film from former Austinite Lucky McKee is always a big deal, and we'd been waiting eagerly for the latest from the director of May to make its way back home. Tonight, we finally get a special screening of his Austin-shot psychothriller Kindred Spirits – but wait. You don't even need to leave your couch.
Yup, after the film received its world premiere at the cooler-than-cool Cinemapocalypse genre festival in Chicago, McKee just tweeted that his latest story of family insanity is going to get a special broadcast tonight as part of Lifetime Movie's Shockober programming.
Yes, you read that right. Lifetime, but don't get them confused with other, schmaltzier networks. Lifetime has always leaned hard into the weird and eerie (Flowers in the Attic, anyone?) so McKee's latest (written with his All Cheerleaders Must Die cowriter/codirector Chris Sivertson) seems like it will be a natural fit. Here's the plot:
Chloe (Thora Birch) has her life turned upside down when her younger sister, Sadie (CaitlinStasey), comes home after a long unexplained absence. Though Sadie seems to want to settle in with Chloe and her 17-year-old daughter Nicole (Sasha Frolova), she's actually a deeply disturbed young woman with a sinister agenda.
McKee has promised that the film (which also features Austin constant Macon Blair) will also arrive on VOD in early 2020, but you can catch this special screening on Lifetime Movies tonight, Oct. 24, at 7pm Central.
A note to readers: Bold and uncensored, The Austin Chronicle has been Austin's independent news source for over 40 years, expressing the community's political and environmental concerns and supporting its active cultural scene. Now more than ever, we need your support to continue supplying Austin with independent, free press. If real news is important to you, please consider making a donation of $5, $10 or whatever you can afford, to help keep our journalism on stands.
READ MORE
More by Richard Whittaker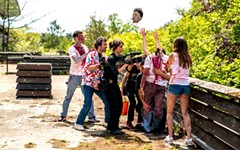 French remake of beloved Japanese movie-making comedy adds a little
Sept. 30, 2022
Wall-to-wall Godzilla in the new show, opening tonight
Sept. 30, 2022
KEYWORDS FOR THIS POST
Lucky McKee, Macon Blair, Thora Birch, Lifetime Movies, Kindred Spirits
MORE IN THE ARCHIVES