Back to Zombieland
Ruben Fleischer and Jesse Eisenberg pull the trigger on Double Tap
Knowing when to make a sequel can be tough. Too soon, and everyone thinks it's a cash in. Too late, and no one remembers the original. So how did director Ruben Fleischer know when it was time to reunite with Jesse Eisenberg for Zombieland: Double Tap?
According to Fleischer, it was the return of original scriptwriters Rhett Reese and Paul Wernick, who first brought together the unlikely adoptive family unit of brusque cowboy Tallahassee (Woody Harrelson), nebbish Columbus (Eisenberg), the sardonic Wichita (Emma Stone), and and kid sister Little Rock (Abigail Breslin). "Many of the other scripts were great," he said, "and would have made very entertaining movies, but I think having the voice of original writers in the mouths of the actors was what distinguished it. There was just a specificity in terms of the way they respect their actors - in large part because Rhett is Columbus."
For Eisenberg - himself a scriptwriter, as well as an actor - that connection to the material, and its oddball emotional core, was summed up in a deleted moment from the first film. It was the second day of shooting, and Columus had just had to dispatch his zombified neighbor in Apartment 406 (Amber Heard). "I'm in the bathroom, and I'm weeping over the dead body of her. I walked outside of the set, and Rhett was sitting outside on the monitor, crying. And it occurred to me, that's why this movie is so good, because it's very, very funny, and it's very original, and there's a lot of action, and the characters are eccentric and interesting - but it's derived from real emotion."
What distinguishes this final version of Zombieland: Double Tap, Eisenberg said, is that "the audience feels that emotion in an intrinsic way. So by the time that Rhett and Paul got back to doing this script, after doing the Deadpool sequel, they imbued it with that articulatable emotional essence."
---
Austin Chronicle: Something else that defined the original script was that it trusted the audience. It was loaded with fast dialog and unconventional action sequences, and visual stylings - like embedding Columbu's rules in the image. There was a long time when it felt like movies could be fast and funny in the dialog, or fast and funny in the visuals, but you did both.
Jesse Eisenberg: It's not just that. Ruben, one of the many things that he's really great at knowing is not indulging us as actors. He'll let us do whatever we want, but he's not going to put something in the movie just because he thinks its really funny personally. I've done a lot of comedies, and he's the only person that cuts out great jokes because he's disciplined.
Ruben Fleischer: I don't like self-indulgent comedies where it feels like they're making each other laugh. It all has to come from character. Even if it's a funny joke, if it doesn't propel the story or feel like it's grounded in character, then it probably doesn't belong.
I'm also really impatient as a moviegoer. I don't like long movies. I prefer shorter films, and I think comedies should be short. I think that's just part of the recipe: just keep it moving.
AC: This may be me kvetching as a critic, but the number of films I watch where I go, "There's no reason for you to be 140 minutes."
JE: I know. It's shocking to me.
RF: I resent it as an audience member. No comedy, no matter how funny it is, should be over two hours. I just don't get it. So for this movie to be a brisk 96 minutes, it's still a lot of movie. It doesn't overstay its welcome, there's never lulls. If anything, it leaves you wanting more.
AC: I have friends in the haunted house industry, and they always say there's a sweet spot, time wise, for not pushing people out the door too fast, so they can get their money's worth and can appreciate the haunt, but you're making way for the next people.
JE: I didn't even know that's even an industry.
RF: Oh, yeah, Remember we shot in one for the first film? Remember that crazy haunted house in Atlanta?
JE: Oh my god, I remember now. That was an amazing place. It was right off the highway.
RF: He goes into the haunted house, and it was just a big old warehouse, and we shot for a day there for all those scene where he's just looking around, and the zombie attacks here. The zombies that came to the screening last night were from one the haunted houses.
AC: Probably the House of Torment.
RF: Yeah, that's what they said.
AC: And Halloween is the biggest non-food, non-travel holiday, spendingwise. Especially in years of political tension, because people like being scared, but want to be able to be afraid in a controlled environment.
JE: Where it's controlled by safe boundaries.
RF: It's not existential, it's specific.
AC: One thing I find interesting about your career is -
JE: That it exists. That you're the Ron Jeremy of drama. You make us think that we can do it.
AC: It's that you've got this position as the - and I mean this in this nicest way.
JE: Oh, boy.
AC: ... That you're the nerdy action hero. Between this and The Art of Self-Defense and American Ultra, you've carried action scenes. But it's this line you have to strike between vulnerability and being able to handle the action.
JE: I like it because there's a greater intensity than to a kitchen sink drama. In these kind of movies the stakes are life and death, and so as an actor you feel a little more invigorated at the end of the day. Whereas doing a kitchen sink drama, which I do too, sometimes feels a little redundant, whereas this stuff always feels fresh because it's as intense as you can possibly be.
I like it also because it's funny, too. That's just my taste. I always wonder why things sometimes don't have any humor in it. So movies like Art of Self-Defense and Zombieland, even though they are very different, satisfy all the things that I like to do.
RF: He's also very good at it. This is the third movie with action we've done. He's very quick.
JE: I'm fast.
RF: He's very fast, but he's also learns things quickly, he's really coordinated.
AC: But here, it's 10 years after the first film and you've been out killing zombies for a very long time. How did you balance that part of the physical performance, where you still have to be slightly awkward?
JE: You hit on the thing that I realized halfway through shooting the movie that I should be thinking about, and the only solution I thought of was that, well, the character's a pacifist, so he doesn't want to do this, so he never got great at it. He's adept, but only for survival, whereas Woody's character is doing it for sport. He doesn't want to kill anything unless it's running towards him. He's timid because he doesn't like it, not because he's not good at it. He hates the part of himself that's violent.
---
Zombieland: Double Tap is in cinemas now: for review and listings, blast over to our Showtimes page.
A note to readers: Bold and uncensored, The Austin Chronicle has been Austin's independent news source for over 40 years, expressing the community's political and environmental concerns and supporting its active cultural scene. Now more than ever, we need your support to continue supplying Austin with independent, free press. If real news is important to you, please consider making a donation of $5, $10 or whatever you can afford, to help keep our journalism on stands.
READ MORE
More by Richard Whittaker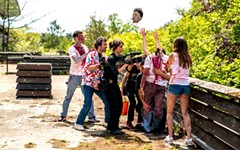 French remake of beloved Japanese movie-making comedy adds a little
Sept. 30, 2022
Wall-to-wall Godzilla in the new show, opening tonight
Sept. 30, 2022
KEYWORDS FOR THIS POST
Zombieland, Ruben Fleischer, Jesse Eisenberg, Zombieland: Double Tap
MORE IN THE ARCHIVES