SXSW Short Film "Stop" Finds Fear in Being Pulled Over
Austin director Steven DeGennaro on race and roadside terror
Welcome to Short and Sweet, the Chronicle's spotlight on short films at SXSW. One film, one filmmaker, five questions.
Three people – two black men (Camron Jones and Chris Boykin) and a white woman (Jessica Perrin) – are driving at night when the all-too-familiar blue-and-red flashing lights appear behind them.
That's the simple set-up to "Stop," the latest short by Austin filmmaker Steven DeGennaro. Co-written with Philadelphia-based film critic Scott Weinberg, it's 12 minutes of tension set inside the car, and it screens today as part of the SXSW Community Screening: AFS ShortCase at AFS Cinema.
Austin Chronicle: Your breakout short, "First Date," was a no-holds-barred gross-out comedy, and your first feature, Found Footage 3-D, is a horror-comedy: What made you want to move into a purer social commentary like "Stop"?
Steven DeGannaro: As a filmmaker, I've never been interested in re-treading the same ground twice. I'm always looking for a new challenge. In this case, the story was borne out of the rage that I feel every day about the abuse of power and lack of accountability we keep seeing over and over and over again in this country from certain police officers, and from the system that protects them. I've cared very deeply about this issue for a long time, and always felt hopeless and powerless to do much about it. So I decided that the best way for me to contribute was to use my art to speak truth to power and hope to change hearts and minds.
AC: You're in Austin and Scott's in Philly: What was the working process for the script?
SD: The short is adapted from a feature script that Scott and I wrote. Our process involved many hours on the phone brainstorming and crafting the story. Scott is an endless fountain of great ideas. I tend to think structurally. So we complemented one another well. I'd mine Scott's brain for ore, and then together we'd refine it into something shiny that fit with all the other pieces of the machine. And then I'd put it down on the page and send it to Scott for feedback and further refinement.
AC: As a white filmmaker telling a story about two black men being pulled over by a white cop, did you have any concerns about how to approach the material?
SD: It was extremely daunting, since the stakes are so high and it's so important to get it right. But filmmaking is a collaborative medium. You're always relying on your collaborators to bring their experiences to the table to make something that you could never make yourself. Jeffrey Reddick has been on board as producer from before a single word was put to paper, and he's helped to shape the story in innumerable ways, both as a black man and as a master of genre storytelling. And Camron and Chris brought their own lived experience not only to their performances, but to the last few drafts of the script. They are responsible for a lot of important details that hopefully lend the film some authenticity.
AC: There's a very particular aesthetic, especially with the lighting and the use of diegetic lighting in the enclosed space of the car. What were the challenges as a filmmaker there?
SD: We had to shoot the entire movie on the two shortest nights of the year. We had 35 setups on the first night alone. And I was working with a new DP (Taylor Camarot) for the first time in my career. But from the beginning, Taylor understood what we were going for and brought a lot of cool ideas on how to execute it really well, but also efficiently. He and Rich Bond (the rare producer/gaffer double threat) did a stellar job and did it quickly. And Charles put together an amazing team of professionals who were all deeply passionate about telling this story. Between them and the actors, who knocked it out of the park on every take, it made my job extremely easy.
AC: Ultimately, there's still something horrifying about "Stop" but it's a grounded, all-too-real horror. Was there anything you really wanted audiences to take away?
SD: We made a decision very early on that we weren't going to provide the audience with a metaphorical buffer by making the cops werewolves or some such nonsense. The horror of this situation is all-too-real for too many people, and we wanted to tackle it head on and force the audience to empathize with Glen and Junior's experience directly. But it's definitely a monster movie. It's just that the monster in this story happens to be human, and he has a badge and a license to kill with impunity.
---
Stop
Saturday, March 9, 4pm, AFS Cinema
A note to readers: Bold and uncensored, The Austin Chronicle has been Austin's independent news source for almost 40 years, expressing the community's political and environmental concerns and supporting its active cultural scene. Now more than ever, we need your support to continue supplying Austin with independent, free press. If real news is important to you, please consider making a donation of $5, $10 or whatever you can afford, to help keep our journalism on stands.
READ MORE
From retro horror to COVID survival, the best of the fests
Richard Whittaker, Jan. 7, 2022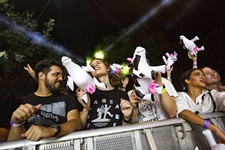 Federal program gave $130 million to over 100 local businesses
Rachel Rascoe, Oct. 22, 2021
More by Richard Whittaker
Amped-up comedy fest adds over 100 comics and podcasts
Jan. 19, 2022
Tech scene and politics get speaker slots, plus WTF is Web3?
Jan. 18, 2022
KEYWORDS FOR THIS POST
SXSW, SXSW Film 2019, SXSW 2019, Stop, AFS Cinema, Steven DeGennaro, Short and Sweet
MORE IN THE ARCHIVES