Chronicle Recommends: The Best of Austin
Our recommendations of the finest movies from and about the ATX
Every month, the Chronicle's film critics select a theme and offer movie recommendations. In celebration of this week's "Best of Austin" awards, we picked a handful of our favorite Austin movies.
The Texas Chain Saw Massacre (1974)/Slacker (1990)
Okay, these are too obvious, and you've probably already seen them, but really, you can't have a list of the best Austin movies without them, because without these two, there wouldn't even be other Austin movies. Tobe Hooper's Chain Saw not only jump-started a new generation of low-budget indie horror, it put Austin on the map, and laid out a path for local filmmakers to follow. (And it's still a gut-punch, decades later.)
Slacker
that really changed things, though – a slice of life that captured Austin's zeitgeist and defined Austin weirdness for its own generation, but also launched Rick Linklater's career. And the fact that he was able to keep making movies here, instead of moving to a more established film center, is what led to the Austin Film Society, Austin Studios, and to something that didn't used to exist: the Austin film industry. –
Nick Barbaro
---
Hell on Wheels (2007)
Austin has given the world so much – great films, great music, SXSW, endless arguments about breakfast tacos – but how many cities can truly claim to have given the world a whole new sport? By sheer damn blind luck, Austin indie director Bob Ray was on hand at some of the very first meetings that led to the birth of modern Roller Derby. A hard-hitting true-life tale of how a disparate bunch of women came together, fought, skated, and exported something uniquely Austin to become a global phenomenon. It was Austin's DIY ethos writ large, in a bunch of bars and clubs you'll know, with people you may well have hung out with if you were in the Jackalope or Casino el Camino in the mid-2000s. Plus, … And You Will Know Us by the Trail of Dead provided the score. How Austin is that? – Richard Whittaker
---
6 Years (2015)
The Long Dumb Road
premiered at last week's Austin Film Festival)
6 Years
is centered in the midst of a relationship's dissolution. (It's a lot like
Blue Valentine
, but with college kids and more pretentious band T-shirts.) Childhood sweethearts on the cusp of adulthood Mel (Taissa Farmiga) and Dan (Ben Rosenfield) fight to stay together even as the larger forces of life – goals, hopes, dreams, budding careers – are pulling them in separate directions. It's poignant, realistic, and both leads give great performances. –
Danielle White
---
Results (2015)
Results
was shot around town (hey, there's Donn's Depot!), but the clash of ne'er-do-wells and can-do-wells is what makes this film particularly special. Also of note is the fact that $200 can buy you anything in this town (for now). –
Josh Kupecki
---
Death Proof (2007)
When paired with Robert Rodriguez's Planet Terror as Grindhouse, Quentin Tarantino's mash note to NYC's Deuce and the gleefully grimy classics of the Koch era tanked at the box office, but taken on its own terms QT's Death Proof is an unheralded masterpiece of automotive mayhem, pervy psychomania, and avenging feminist ferocity. Pretty maids all in a road rage wage payback on Kurt Russell's Stuntman Mike following a vehicular goregasm so realistic it gave me a panic attack. Faster, pussycats! Kill! Kill! – Marc Savlov
---
Waking Life (2001)
The Austin of Richard Linklater's iconic Slacker (1990) is, of course, long gone, but the culture and community of the city as depicted in 2001's Waking Life is nearly vanished, too. An inspiring animated amble through philosophy, quantum physics, film theory, and dreams vs. reality, Waking Life didn't just employ Austin's creative class (virtually every working artist in town was enlisted to rotoscope the digital footage into dazzling moving images); it also made a whole movie about them. Given the city's ruinous rent hikes, if you wanted to make a movie about Austin's creative class today, you're better off moving production to Lockhart, Dripping Springs, or Manor. – Kimberley Jones
---
Blood Simple
(1984)
The star of the neo-noir classic, Frances McDormand (in her screen debut), probably describes it best: "It's a thriller, a horror and a comedy all at once." The Coen brothers' only real connection to Texas was Joel's one year at UT film school, but they and a sterling cast used the Austin landscape and a subtly, slyly Texas-infused script for their arresting, minimalist yet bloody portrait of loneliness curdled into lawlessness. Locations include Mount Bonnell, the old Grove Drug on Sixth Street, the deceased Starliner bar in North Austin (where Chinatown Center is now), a field south of Hutto, and the apartments upstairs from the Old Pecan Street Cafe, which get shot up real good during the climax that sealed the Coens' deal, and eventually McDormand's, as breakout stars. (And as family; Joel and Frances married right as the movie was released.) – Mike Clark-Madison
---
I Don't Feel at Home in This World Anymore (2017)
Macon Blair's feature-length directorial debut might not cure whatever's ailing you, because that'd be sorcery, but this quirky revenge drama – in which actors Melanie Lynskey and Elijah Wood play chance-paired neighbors tracking down a gang of housebreaking thieves – will lift your spirits from any doldrums with its relatable characters and moments of hilariously fucked violence. Blair wanted to film in town, but we wuz robbed due to lack of Texas film incentives at the time, and the Pacific Northwest wound up getting this very Austin-feeling, reminiscent-of-the-best-Coen-Bros. arrival of a new talent that strikes as boldly as, well, as a shuriken to the face. Bonus: The Jesus Lizard's frontman is the main villain? Yow! – Wayne Alan Brenner
---
Men, Women & Children (2014)
Jason Reitman knows Austin, but when he adapted Chad Kultgen's 2011 novel for the screen, he wasn't interested in hanging out in Barton Springs or snatching some B-roll at the Broken Spoke. Back when it was released, he told the Chronicle that "the perception of Austin outside of Austin is almost like a mythical place." But his cinematic version is suburban Austin, the Austin it's inconvenient to talk about, the tract homes and Friday night high school football Austin that everyone tries to pretend doesn't exist, but is more of a day-to-day reality for most folks than guzzling Lone Star and complaining about the wrong kind of hipster moving here. – R.W.
---
For more Chronicle Recommends picks, visit our Movie Picks page.
A note to readers: Bold and uncensored, The Austin Chronicle has been Austin's independent news source for over 40 years, expressing the community's political and environmental concerns and supporting its active cultural scene. Now more than ever, we need your support to continue supplying Austin with independent, free press. If real news is important to you, please consider making a donation of $5, $10 or whatever you can afford, to help keep our journalism on stands.
READ MORE
More Chronicle Recommends
Celebrating the cinematic legacy of Mary Shelley's creation
Chronicle Film Staff, Aug. 2, 2018
For Crime Month, our favorite films about getting away with it
Chronicle Film Staff, July 9, 2018
More by Chronicle Film Staff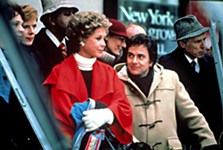 Our top picks for holiday movies with a twist
Dec. 6, 2018
Deliciously spooky films for the scaring season
Oct. 8, 2018
KEYWORDS FOR THIS POST
Chronicle Recommends, Death Proof, Slacker, Results, 6 Years, The Texas Chain Saw Massacre, Men, Women and Children, Hell on Wheels, Waking Life, I Don't Feel at Home in This World Anymore, Best of Austin
MORE IN THE ARCHIVES