Chronicle Recommends: Halloweenies
Deliciously spooky films for the scaring season
Every month, the Chronicle's film critics select a theme and offer movie recommendations. It's the season of spookiness and chills, so we're getting in the spirit with some of the best Halloween-themed – and just plain deliciously spooky – movies.
Trick'r Treat (2007)
There are some simple rules for Halloween.
Rule one: Always wear a costume.
Rule two: Always pass out treats.
Rule three: Never blow out a Jack o' Lantern.
Rule four: Check your candy.
Michael Dougherty's dark, hilarious, and sinister anthology was buried by the studio like an old corpse, but it came back as a fan favorite, giving horror one of its first new icons – Sam, the miniature guardian of those rules - since Jason found his hockey mask. - Richard Whittaker
Hocus Pocus (1993)
Danielle White
Grow Up, Tony Phillips (2013)
Grow Up, Tony Phillips is Austin-bred writer/director Emily Hagins' fourth, and most accomplished, feature (and let's not even dwell on the fact that she was barely out of her teens when she made it). Curiously, this Halloween-themed movie is Hagins' first project to be grounded in reality rather than horror or fantasy. It's a sweet tale about a teenager who believes he's never too old to fully indulge in Halloween, even though his too-cool-for-school friends distance themselves from his nerdiness. It's an accomplished tale about being true to oneself, but the background showcases a Halloween glut. – Marjorie Baumgarten
Ed Wood (1994)
Giddy with a love for so-bad-it's-good cinema, this romanticized biopic about Edward G. Wood, the man widely considered the worst film director of all times, is a multi-pleasure experience as it recreates Wood's infamously inept productions, such as Plan Nine from Outer Space. But the greatest pleasure comes from Martin Landau's uncanny performance as an aging, morphine-addicted Bela Lugosi, the Hungarian horror-film actor who hammily defined Dracula for eternity. Just watch him react to the mention of screen rival Boris Karloff, who likewise defined Frankenstein's monster onscreen. A movie so entertaining it's scary. - Steve Davis
The Seventh Continent (1989)
Who better to apply a scalpel to the middle class than Austrian filmmaker Michael Haneke? A horror film in so many ways: From the constant consumerism and endless shots of consumption to the shocking finale, The Seventh Continent appears like a dour affair. It is not. It is a clipped, harrowing descent into the abyss, as methodical as a slasher film, as the viewer follows the lives of this family and their endless negotiations with grocery clerks and the world at large. Tell me the banality of that existence is not the scariest thing of all. - Josh Kupecki
Bonus: "Summerween," Gravity Falls, 2012
Disney Channel's unexpected animated smash Gravity Falls faced a conundrum: How do you do the inevitable mandatory Halloween episode for a show which is set across one summer in a remote Oregon tourist trap? Simple. Declare that the weird little town is so in love with Halloween that they had to have a second celebration – Summerween, scheduled every year for June 22. Break out your carved jack-o-melons, and get ready to hand out all that loser candy, like Sand Pop!, Mr. Adequate-Bar, and Gelatin Product. - RW
---
For more Chronicle Recommends selections, visit our Movie Picks page.
A note to readers: Bold and uncensored, The Austin Chronicle has been Austin's independent news source for over 40 years, expressing the community's political and environmental concerns and supporting its active cultural scene. Now more than ever, we need your support to continue supplying Austin with independent, free press. If real news is important to you, please consider making a donation of $5, $10 or whatever you can afford, to help keep our journalism on stands.
READ MORE
More by Chronicle Film Staff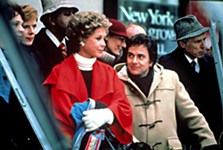 Our top picks for holiday movies with a twist
Dec. 6, 2018
Our recommendations of the finest movies from and about the ATX
Nov. 4, 2018
KEYWORDS FOR THIS POST
Chronicle Recommends, Trick'r Treat, The Seventh Continent, Hocus Pocus, Grow Up, Tony Phillips, Ed Wood
MORE IN THE ARCHIVES