Chron of Us: Fantastic Fest Day 6
Our daily podcast from the fest gets musical for a change
Are you ready to rock, Fantastic Fest? Day six brought the thunder, and the Chronicle and One of Us teams were there to share the lightning with some special guests from That's My Entertainment.
Listen to today's episode of our The Austin Chronicle/One of Us podcast network mashup right here, including reviews of:
– Tenacious D rock your faces off in hand drawn series Post-Apocalypto;
– Dance like the world already ended in The FP2;
– Musical drama in the wildly lauded The Perfection (read our review here);
Plus many more titles that will be headed your way throughout the festival and into the fall.
---
Fantastic Fest runs Sept. 20-27. For more news, reviews, and interviews, visit austinchronicle.com/fantastic-fest.
Listen to today's episode of The Austin Chronicle/One of Us podcast here.
Find more shows from the One of Us crew at oneofus.net.
Also thanks to our special guests from thatsmye.com.
A note to readers: Bold and uncensored, The Austin Chronicle has been Austin's independent news source for almost 40 years, expressing the community's political and environmental concerns and supporting its active cultural scene. Now more than ever, we need your support to continue supplying Austin with independent, free press. If real news is important to you, please consider making a donation of $5, $10 or whatever you can afford, to help keep our journalism on stands.
READ MORE
More by Chronicle Film Staff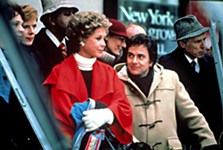 Our top picks for holiday movies with a twist
Dec. 6, 2018
Our recommendations of the finest movies from and about the ATX
Nov. 4, 2018
KEYWORDS FOR THIS POST
Fantastic Fest, Fantastic Fest 2018, FF 2018, Chron of Us
MORE IN THE ARCHIVES