Chronicle Recommends: The Many Faces of Frankenstein
Celebrating the cinematic legacy of Mary Shelley's creation
Every month, the Chronicle's film critics select a theme and offer movie recommendations. In celebration of the 200th anniversary of the first publication of Mary Shelley's Frankenstein, we celebrate the many stories of cinema's greatest monster, and the innovator who created him.
Frankenweenie
(2012)
The Nightmare Before Christmas
' Halloween Town drained of all color (you may recognize a few characters, too). There's a fan theory (OK, fine, it's a meme) that young Victor Frankenstein, the Victor from
Corpse Bride
, and Jack Skellington are all the same person in different stages of age/decay. Delightful! (Read our original review
here
.) –
Danielle White
Gothic (1986)
It was a dark and stormy night when Lord Byron (Gabriel Byrne) hosted Percy Shelley (Julian Sands), his wife Mary (Natasha Richardson), and Dr. John Polidori (Timothy Spall) for a drug-infused evening that, legend has it, gave birth (in more ways than one) to Mary Shelley's classic novel, Frankenstein, or the Modern Prometheus. Leave it to director Ken Russell to orchestrate a most fucked-up origin story, and he and his cast are firing on all cylinders here, with nods to iconic paintings and the unflinching embrace of the grotesque. Russell's film swings a bit towards camp (as always), but still packs a potent and horrifying punch. – Josh Kupecki
Director's Commentary: Terror of Frankenstein (2016)
Terror of Frankenstein
, starring Leon Vitali (actor and, as chronicled in recent documentary
Filmworker
, Stanley Kubrick's right-hand man), and added a fictional Blu-ray commentary track, telling a parallel universe story of unspeakable horrors being committed on-set, and dark echoes of the body-snatching tale of gore and madness. Oh, and it gets even more mind-warping when Vitali turns up in the recording booth as himself. Radical, uncanny, and with a constant reminder that the man is always the real monster (for an interview with Kirk, read "
The Terror Behind Terror of Frankenstein
," Aug 25, 2016). –
Richard Whittaker
Gods and Monsters (1998)
Mary Shelley, the literary creator of Frankenstein, is finally receiving her due 200 years after the novel's first publication. Twenty years ago, in 1998, Bill Condon's fresh film Gods and Monsters (based on Christopher Bram's novel Father of Frankenstein) presented a speculative account of the final days in the life of James Whale, the director of Hollywood's first iteration of the Frankenstein monster in 1931. After directing Bride of Frankenstein and other horror classics during the Thirties, the openly gay Whale was blackballed from Hollywood and retired into the life of a gentleman painter before being overtaken by illness and eventual suicide. The award-winning film earned abundant honors for its stars Ian McKellen and Lynn Redgrave, and the story's parallels between the tragic monster shunned by society and the gay man cloaked behind the lavender curtain provide contemporary resonance. (Read our original review here.) – Marjorie Baumgarten
Frankenstein Conquers the World
(1965)
Of all the Frankenstein flicks in cinema history, only this one was turned into a love song by Daniel Johnston and Jad Fair. Ishiro Honda, Japan's reigning kaiju eiga king, re-stitched Mary Shelley's masterpiece and ended up with one of the wildest takes on the modern Prometheus since Robert Oppenheimer had, y'know, grave doubts about splitting atoms and all that jazz. Nazis, Nick Adams, Hiroshima horror, and a giant, feral "Frankenstein" – vs. Gojira all-star Baragon – ensue. Quoth the Kong-y trailer: "The strength of 1,000 men…and every man's need for affection that makes him a willing captive!" Want weirder? Check out the seriously psychedelic sequel, War of the Gargantuas. – Marc Savlov
Andy Warhol's Frankenstein (1973)
Andy Warhol shamelessly slapped his name onto a couple of X-rated horror flicks directed by Paul Morrissey in the middling Seventies, the first a spoof on the Frankenstein myth in which the mad scientist (Udo Kier!) aspires to create a monster race of perfect Serbians. Owing more to Herschell Gordon Lewis than Mary Shelley, the movie (alternatively entitled Flesh for Frankenstein) features disembowelments, body organs, necrophilia, incest, rape and an oddly American-accented Joe Dellasandro as a lusty stable boytoy, all without much shock value today but nonetheless perversely fascinating in its eagerness to appall its audience. – Steve Davis
---
For more Chronicle Recommends picks, visit our Movie Picks page.
A note to readers: Bold and uncensored, The Austin Chronicle has been Austin's independent news source for over 40 years, expressing the community's political and environmental concerns and supporting its active cultural scene. Now more than ever, we need your support to continue supplying Austin with independent, free press. If real news is important to you, please consider making a donation of $5, $10 or whatever you can afford, to help keep our journalism on stands.
READ MORE
More Chronicle Recommends
Our recommendations of the finest movies from and about the ATX
Chronicle Film Staff, Nov. 4, 2018
For Crime Month, our favorite films about getting away with it
Chronicle Film Staff, July 9, 2018
More by Chronicle Film Staff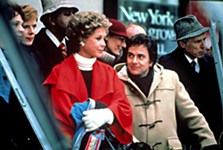 Our top picks for holiday movies with a twist
Dec. 6, 2018
Deliciously spooky films for the scaring season
Oct. 8, 2018
KEYWORDS FOR THIS POST
Chronicle Recommends, Frankenweenie, Andy Warhol's Frankenstein, Flesh for Frankenstein, Frankenstein Conquers the World, Gothic, Gods and Monsters, Director's Commentary:Terror of Frankestein
MORE IN THE ARCHIVES