Chronicle Recommends: Crime and No Punishment
For Crime Month, our favorite films about getting away with it
Chronicle
screens crew has pocketed their favorite films where the criminals get away with it.
Whether it's sultry seductresses who always have the upper hand, or bank robbers one step ahead of the cops, Hollywood has always had a love affair with the bad guy doing good. From Barbara Stanwyck stealing hearts, to George Clooney proving the house doesn't always win, here's one for the crook in us all.
For more Chronicle Recommends, covering every taste from best dog movies to our favorite flicks about America's pastime, visit austinchronicle.com/movie-picks.
Ocean's Eleven (2001)
The biggest crime about the Rat Pack's 1960 Las Vegas multi-casino heist flick (a scarcely disguised excuse for Sinatra and company to get paid and loaded in the desert) is how bad it is. But when Steven Soderbergh unexpectedly rebooted the chintzy premise as a star-laden (Pitt! Cheadle! Roberts!) smooth operation, everyone was rooting for the crooks. True, Danny Ocean (George Clooney at his suavest) does a little time for a probation violation, but that's all part of the plan, and the swag's in the bag. (Read our original review here.) – Richard Whittaker
Body Heat (1981)
Lawrence Kasdan's debut Body Heat borrows liberally from Forties and Fifties film noir, and its similarities to Double Indemnity have been duly noted. In Kathleen Turner's square-shouldered, lean, all-white shirt & skirt combos I can't help being reminded of Lana Turner's white-hot outfits in The Postman Always Rings Twice. The three films share the common plot point of two lovers trying to off the woman's husband, yet K Turner's Matty Walker elevates the role from femme fatale to master contriver as she seduces William Hurt's shoddy lawyer Ned Racine into thinking he's in control.
Sweat acts as aphrodisiac here – the two of them are constantly dripping – to the point where you may ask yourself, "Was there no such thing as air conditioning in 1981?" (Perhaps it's just another callback to that earlier time.) In any case, pour two tall glasses of iced tea and draw yourself a cold bath. You're gonna need it. – Danielle White
Eating Raoul (1982)
The thunk! of a cast-iron skillet landing atop the male skull is the brilliant running gag in this little gem of a black comedy about an enterprising straight-laced couple who lure affluent swingers to their apartment and off them for their cash, criminal proceeds the aptly named Blands (the incomparable Paul Bartel and Mary Woronov) plan to use to underwrite their dream restaurant. Things go from the frying pan and into the fire, however, when a petty thief named Raoul uncovers the scheme and threatens the Blands' platonic marriage with his Latin Lover moves. Sweet and yet spicy, Eating Raoul is wonderfully yummy. (Read our original review here.) – Steve Davis
Zero Effect (1998)
Fun fact: The best Sherlock Holmes adaptation is a Nineties movie starring Bill Pullman and Ben Stiller. Jake Kasdan's Zero Effect brings the idiosyncrasies of Doyle's hero to life in the form of Daryl Zero (Pullman), a depressed, pill-popping agoraphobe who is nonetheless the world's single greatest criminal mind. When Zero is hired to solve a blackmail case, he immediately unearths the "who" (Kim Dickens, locally best known as starring in two Austin-shot series: Friday Night Lights' Shelby Saracen, and now Fear the Walking Dead's Madison Clark) and the "how." Yet he cannot bring himself to turn in the culprit until he understands why she did it. Clever, poignant, and slyly funny, Zero Effect is the career-defining Pullman role we too often forget. (Read our original review here.) – Matthew Monagle
The Lady Eve 1941)
When scam artist Jean (Barbara Stanwyck) seduces Charles (Henry Fonda), a straight-laced heir to an ale empire, she surprises herself by developing true feelings for him. But when he throws her over, she switches gears from romance to sweet revenge: "I need him like the axe needs the turkey." Inventing a new persona, the Lady Eve, Jean seduces Charles all over again (hijinks ensue, naturally), and Preston Sturges' effervescent screwball shifts the long con to a whole new goalpost: 'til death do us part. – Kimberley Jones
The Last Seduction (1994)
John Dahl's neo-noir doesn't just flip the script on the genre, it throws the table over, lights the place on fire, hops in a stolen car, and never looks back. Linda Fiorentino is absolutely mesmerizing as a femme fatale that steals the money from a cocaine deal shakily pulled off by her husband (Pullman back in action, this time as an out-of-his-depth doctor), and now is stuck in limbo, or more to the point, a small town in upstate New York. After wrapping a young Peter Berg around her finger, she proceeds to destroy everyone's lives with cruel abandon. This is the perfect film for introverted sociopaths – you know who you are. (Read our original review here.) – Josh Kupecki
---
For more Chronicle Recommends picks, visit our Movie Picks page.
A note to readers: Bold and uncensored, The Austin Chronicle has been Austin's independent news source for over 40 years, expressing the community's political and environmental concerns and supporting its active cultural scene. Now more than ever, we need your support to continue supplying Austin with independent, free press. If real news is important to you, please consider making a donation of $5, $10 or whatever you can afford, to help keep our journalism on stands.
READ MORE
More Chronicle Recommends
Our recommendations of the finest movies from and about the ATX
Chronicle Film Staff, Nov. 4, 2018
Celebrating the cinematic legacy of Mary Shelley's creation
Chronicle Film Staff, Aug. 2, 2018
More by Chronicle Film Staff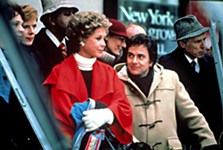 Our top picks for holiday movies with a twist
Dec. 6, 2018
Deliciously spooky films for the scaring season
Oct. 8, 2018
KEYWORDS FOR THIS POST
Crime Month 2018, Chronicle Recommends, Ocean's Eleven, Body Heat, The Lady Eve, Zero Effect, The Last Seduction, Eating Raoul
MORE IN THE ARCHIVES