Chronicle Recommends: Films About Fashion
Get glamorous with our favorite catwalk flicks
Every month, the Chronicle's film critics select a theme and offer movie recommendations. With the fabulously stylish documentary, The Gospel According to André, we get all gussied up for our favorite films about fashion.
You can read our review of this profile of Vogue legend André Leon Talley here (and you should accessorize that with our interview with director Kate Novack), but here's a few more haute couture classics and street style favorites to just die for.
The First Monday in May (2016)
Andrew Rossi's documentary about the Metropolitan Museum of Art's annual mounting of a marquee fashion exhibit that culminates in a celebrity-larded costume party-cum-fundraiser is not unlike the Met Gala itself, wherein high and low culture mingle for a meal that is deliciously dishy yet doesn't feel like empty calories. The costumes are divine … and the star gawking's pretty great, too (read our review here). – Kimberley Jones
The Neon Demon (2016)
High fashion is inherently ridiculous, toxic, and enchanting. It's easy to see why Gucci wanted modern psychotronic master Nicolas Winding Refn to shoot its stylized commercials, but the couture corporation may not have expected him to spit its imagery back in its face with this glorious, gruesome reinvention of the runway as a blood bath. As Winding Refn said, "We can't run from the fact that what appalls us we're equally drawn to" (read our review here, and our interview with Winding Refn and composer Cliff Martinez here). – Richard Whittaker
Radioactive Dreams (1985)
Why settle for just one period in American fashion? Helmed by direct-to-video icon Albert Pyun, Radioactive Dreams follows two postapocalyptic brothers as they venture outside their nuclear bunker for the first time. The bunker's only entertainment came in the form of dime store detective novels; as a result, both men have modeled their adult selves after the slang, clothing, and self-effacing voiceovers of the books. Once they hit the wasteland, the brothers are forced to fight their way through greasers, hippy assassins, disco mutants, and cannibal punks. Wildly imaginative and unapologetically silly, Radioactive Dreams is the perfect antidote for years of self-serious post-disaster cinema. – Matthew Monagle
Zoolander (2001)
Few film satirists have an aim as true as Ben Stiller's. In this supremely silly assault on the fashion industry, which Stiller stars in as well as directs, the comedian is in fine form as Derek Zoolander, the vacuous model and owner of a patented pose called Blue Steel. The film's plot is as trifling as its eponymous hero – something about brainwashing Zoolander to kill a Malaysian minister who wants to rid his country of illegal sweatshops. The supporting work from Owen Wilson as Zoolander's chief rival Hansel, Will Farrell as the over-the-top fashion designer and evil mastermind Mugatu, and Jerry Stiller as Zoolander's manager Maury Ballstein is delicious, and a host of other actors such as David Bowie, Justin Theroux, Jon Voight, and David Duchovny can be spotted working in the film's margins. That, of course, is not to mention the parade of notables who appear in cameos as themselves: Fabio, Lenny Kravitz, Garry Shandling, Paris Hilton, Heidi Klum, Natalie Portman, Cuba Gooding Jr., and that NYC man-about-town Donald J. Trump, to name just a few (read our review here). – Marjorie Baumgarten
Blow-up (1966)
The midcentury age of classic fashion photography idealized the female form with haughty elegance – wasp-waisted models with patrician cheekbones, draped in Dior and Givenchy, lensed by Beaton and Avedon. By the time Michelangelo Antonioni's now-you-see-it, now-you-don't existential mystery Blow-Up appeared onscreen, however, the burgeoning art form had dramatically pivoted to something more explicitly carnal. Against the backdrop of a hedonistic Swinging London, a bored London magazine photographer (David Hemmings) obsesses about whether a happenstance snapshot he's taken in a park unwittingly captured a man's murder. A whodunit in which truth defies revelation, Blow-Up remains a fascinating sign of its time. – Steve Davis
---
For more Chronicle Recommends picks, visit our Movie Picks page.
A note to readers: Bold and uncensored, The Austin Chronicle has been Austin's independent news source for over 40 years, expressing the community's political and environmental concerns and supporting its active cultural scene. Now more than ever, we need your support to continue supplying Austin with independent, free press. If real news is important to you, please consider making a donation of $5, $10 or whatever you can afford, to help keep our journalism on stands.
READ MORE
More Chronicle Recommends
Our recommendations of the finest movies from and about the ATX
Chronicle Film Staff, Nov. 4, 2018
Celebrating the cinematic legacy of Mary Shelley's creation
Chronicle Film Staff, Aug. 2, 2018
More by Chronicle Film Staff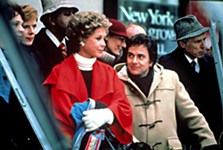 Our top picks for holiday movies with a twist
Dec. 6, 2018
Deliciously spooky films for the scaring season
Oct. 8, 2018
KEYWORDS FOR THIS POST
Chronicle Recommends, Fashion, Blow-Up, Zoolander, Radioactive Dreams, The Neon Demon, The First Monday in May
MORE IN THE ARCHIVES