Chronicle Recommends: Star Wars Actors in Non-Star Wars Films
Celebrate May the Fourth away from a galaxy far, far away
Every month, the Chronicle's film critics select a theme and offer movie recommendations. In honor of Star Wars Day, we look back on our favorite performances by Star Wars actors in lightsaber-free films.
The Hound of the Baskervilles (1959)
The Hound of the Baskerville
s, either the 1959 Hammer film or BBC's 1968 production. –
Danielle White
Under the Rainbow (1981)
There's something glorious in watching a trainwreck go for broke, and this 1981 film starring Chevy Chase and Carrie Fisher (taking a break from her Princess Leia duties) doubles down at every turn. In 1938, the producers of The Wizard of Oz have cast 150 people of short stature for the roles of the Munchkins. The chaotic group are put up in a hotel, where there is also a Nazi plot involving a map of U.S. defenses, continued assassination attempts on a visiting duke, and a throng of Japanese tourists, one of which may be a spy. That's just a sliver of the antics that go down in this attempt at screwball farce that occasionally hits the mark, but the sheer breadth of its sustained, tone-deaf lunacy and odd directorial choices make this film something to behold. – Josh Kupecki
Tunes of Glory (1960)
I lived for a year in the shadow of Stirling Castle - a former royal residence for the Scottish crown, later regimental headquarters for the Argyll and Sutherland Highlanders, and (grim Stirlingshire weather permitting) occasional concert venue. It was also the shooting location for one of the future Obi-Wan Kenobi's greatest performances.
If The Bridge on the River Kwai is Alec Guinness' most famous depiction of mental meltdown in war, then Tunes of Glory is its counterpart in showing the impact of PTSD (then still called shell-shock) on those that come home. Lt. Col. Basil Barrow (John Mills as a portrait of upper class vulnerability) may be the one who physically survived a Japanese POW camp, but Guinness (under a unexpected shock of red hair) devastates as proud warrior Major Jock Sinclair, forced to face how conflict brutalized him. – Richard Whittaker
Beautiful Creatures (2013)
If all you know of YA fantasy romances is the terminally stupid Twilight series, give Beautiful Creatures a try. It marks the first starring role for future Han Solo Alden Ehrenreich, playing a mortal teenager who falls in love with a budding witch. There's a lot of silliness about witches and warlocks and deadly curses afoot, but Beautiful Creatures at least has the good sense to have a sense of humor about so much silliness. Oh, and the double-battered, deep-fried Southern accents are a hoot, most especially in the mouths of certified thespians Jeremy Irons, Emma Thompson, and Viola Davis. As for Ehrenreich, you won't spot much hint of Solo in his sweetly dopey performance here, save this: The kid's got monster charisma. – Kimberley Jones
Frankenstein and the Monster From Hell (1974)
You know your parents are supercool when they take eight-year-old you to see a Saturday matinee like this psychotronic hellbender. Three years before their iconic turns as Darth Vader and Grand Moff Tarkin, David Prowse and Peter Cushing crushed skulls and popped eyeballs as the titular monster and Baron Frankenstein, respectively. Set in a De Sade-ian lunatic asylum, this turned out to be not only Cushing's final turn as Baron F but also the final feature from Britain's legendary Hammer Studios director Terence Fisher. – Marc Savlov
---
For more Chronicle Recommends picks, visit our Movie Picks page.
A note to readers: Bold and uncensored, The Austin Chronicle has been Austin's independent news source for over 40 years, expressing the community's political and environmental concerns and supporting its active cultural scene. Now more than ever, we need your support to continue supplying Austin with independent, free press. If real news is important to you, please consider making a donation of $5, $10 or whatever you can afford, to help keep our journalism on stands.
READ MORE
More Chronicle Recommends
Our recommendations of the finest movies from and about the ATX
Chronicle Film Staff, Nov. 4, 2018
Celebrating the cinematic legacy of Mary Shelley's creation
Chronicle Film Staff, Aug. 2, 2018
More Film
How the dancer made the leap to action star
Richard Whittaker, June 7, 2018
The self-avowed German romantic on his new film
Richard Whittaker, April 13, 2018
More by Chronicle Film Staff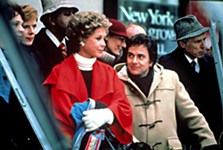 Our top picks for holiday movies with a twist
Dec. 6, 2018
Deliciously spooky films for the scaring season
Oct. 8, 2018
KEYWORDS FOR THIS POST
Film, Chronicle Recommends, Star Wars, Under the Rainbow, Tunes of Glory, The Hound of the Baskervilles
MORE IN THE ARCHIVES