Get in the Spirit of Spring With These Classic Movies
Our critics poke their noses out after winter
Every month, the Chronicle's film critics select a theme and offer movie recommendations. As a great philosopher once wrote, the spring is sprung, the grass is riz, and so we celebrate the blooming season.
A Room With a View (1985)
Under the influence of spring and the sheer romance of pastoral Italy, a young man plants on a young woman the kind of kiss that'll buckle your knees. Puccini on top? Pass the smelling salts. – Kimberley Jones
The Virgin Spring (1960) / The Last House on the Left (1972)
Forget chocoholic March hare, secreted psychedelic eggs, and King of Kings running on an endless cathode ray loop. My favorite Easter double-bill is Bergman's haunting, Christianity vs. Paganism parable The Virgin Spring, backed by Wes Craven's debut Last House on the Left. Bergman and cinematographer Sven Nykvist's 1960 arthouse classic is the grandfather of all rape/revenge movies, a wonderful, terrible thing to behold. Craven's riff is relentlessly vile yet adheres to its predecessor's core story. To avoid fainting, keep repeating "They're only movies" ad nauseam. – Marc Savlov
Late Spring (1949)
If you're familiar with Yasujirō Ozu's work, and a fan of his quiet style, Late Spring is a must-see. The first in his Noriko Trilogy, the film is a portrait of a young woman perfectly content with staying at home to care for her widowed father, but everybody wants her to get married. Despite American Occupation censorship, it's a peek into postwar Japan. Although the "spring" landscapes are a little dull in black & white, it's a tender story of kinship and loyalty. Make it a twofer with 1956's Early Spring. – Danielle White
Fantasia (1940)
"War is looming, but that nice Mister Disney has done another feature cartoon. My, Snow White and the Seven Dwarfs had that evil witch, and Pinocchio has that whale, but how scary can a film with lots of nice classical music be?"
Buckle up, America, because Uncle Walt's madcap art project Fantasia lures you in with the abstract ("Toccata and Fugue in D minor" by Johann Sebastian Bach), the adorable (Tchaikovsky's "Nutcracker Suite") and your good ol' pal Mickey Mouse (Dukas' "The Sorcerer's Apprentice") before dropping the bloody hammer with Igor Stravinsky's Earth-shaking "The Rite of Spring." The original musical work was a shamanic, Bohemian lightning strike to stodgy opera culture, and Disney's team set it to a bloody battle between dinosaurs - rebirth as rending of flesh. Think that was controversial? Think how pissed the Bible Belt would have been if the House of Mouse had gone through with its original plan to represent the entirety of (whisper it) evolution! - Richard Whittaker
The Producers (1967)
The premise is Old Hollywood Ben Hecht by way of Borscht Belt Mel Brooks. (The latter deservedly won an Oscar for his outrageously original screenplay.) Stage a Broadway production so offensively awful that the sure-fire flop immediately closes after opening night, guaranteeing its two wily producers cooking the books a financial windfall. But when the musical's opening number "Springtime for Hitler", replete with a Busby Berkley-inspired swastika and goose-stepping chorus line, hilariously precipitates an unexpected hit, bad taste never tasted so unexpectedly good. - Steve Davis
---
For more Chronicle Recommends picks, visit our Movie Picks page.
A note to readers: Bold and uncensored, The Austin Chronicle has been Austin's independent news source for over 40 years, expressing the community's political and environmental concerns and supporting its active cultural scene. Now more than ever, we need your support to continue supplying Austin with independent, free press. If real news is important to you, please consider making a donation of $5, $10 or whatever you can afford, to help keep our journalism on stands.
READ MORE
More Film
How the dancer made the leap to action star
Richard Whittaker, June 7, 2018
Celebrate May the Fourth away from a galaxy far, far away
Chronicle Film Staff, May 3, 2018
More Chronicle Recommends
Our recommendations of the finest movies from and about the ATX
Chronicle Film Staff, Nov. 4, 2018
Celebrating the cinematic legacy of Mary Shelley's creation
Chronicle Film Staff, Aug. 2, 2018
More by Chronicle Film Staff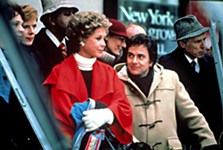 Our top picks for holiday movies with a twist
Dec. 6, 2018
Deliciously spooky films for the scaring season
Oct. 8, 2018
KEYWORDS FOR THIS POST
Film, Chronicle Recommends, Fantasia, The Rites of Spring, The Producers, Springtime for Hitler, Late Spring, Early Spring, Virgin Spring, The Last House on the Left, A Room With a View
MORE IN THE ARCHIVES