Chronicle Recommends: Films About Pets
Sit! Stay! Good movie!
Every month, the Chronicle's film critics select a theme and offer movie recommendations. In honor of our annual pets special issue, we've chosen some of our favorite films about our furry, flying, scaly friends.
The Incredible Journey (1963)
I was barely 5, yet I still see it clearly: My first pet, a collie-mix named Queenie, escaping our backyard, never to be seen again. But when I saw this inspiring Walt Disney docudrama a year later, my broken heart temporarily mended. If two dogs and a cat can trek over 2,000 miles of wilderness to reunite with their human family, maybe Queenie could find me, too. Hope is a thing with fur. – Steve Davis
Wendy and Lucy (2008)
Studies have linked pet ownership with lower blood pressure and cholesterol levels, but Kelly Reichardt's arthouse drama about a dead-broke drifter (Michelle Williams) and her beloved dog that goes missing offers a different kind of health benefit: It will make you cry a super-cathartic bucket of tears. An unforgettable film, beautifully shot and performed, Wendy and Lucy has to be seen. But you'll never want to put yourself through this particular emotional wringer again. – Kimberley Jones
Ring of Bright Water (1969)
Pet owning's greatest pain is knowing you'll likely outlive your pal, and Ring of Bright Water carves that bittersweet lesson in hard granite. Three years prior, Bill Travers rehabilitated the reputation of lions playing conservationist George Adamson in Born Free: Here he does the same for otters as naturalist Graham Merrill (based on real-life animal advocate Gavin Maxwell), at a time when the adorable swimmers were seen as a nuisance. No cutesy animal romp here: When the inevitable happens, parting isn't simply sweet sorrow. It's nature's tragic, self-renewing way. – Richard Whittaker
Harry & Tonto (1974)
Art Carney won an Oscar (besting the likes of Dustin Hoffman, Al Pacino, and Jack Nicholson) for his performance in Paul Mazursky's 1974 original as a man who goes on a cross-country road trip with his cat after his longtime apartment building on New York's Upper West Side is demolished for being "rundown." He visits his grown children and makes new friends, but his abiding companion is his 11-year-old tabby.
– Marjorie Baumgarten
Rhubarb (1951)
Some crazy rich guy leaves all his money and the baseball team he owns to his beloved pet cat, Rhubarb, named after the term for an on-field brawl (this is one feisty feline). While 14 cats were used during filming, Orangey was the primary actor on set. He later appeared in Breakfast at Tiffany's alongside Audrey Hepburn. Director Arthur Lubin went on to create Mister Ed. – Danielle White
White Dog (1982)
Legendary full-auto director Samuel Fuller's masterpiece couldn't be more timely. Kristy McNichol adopts a wounded German shepherd only to discover that the dog's previous owner has trained it to attack black people on sight. Dog trainer Carruthers (Burl Ives) offers to put the dog down, but Paul Winfield's Keys has other ideas, namely deprogramming the killer canine by incrementally exposing more of his own black skin to the beast. It's a smart, challenging, and vicious examination of race relations and ingrained prejudice masquerading as a B-movie. – Marc Savlov
Oh! Heavenly Dog (1980)
Heaven Can Wait
(itself an adaptation of
Here Comes Mr. Jordan
) with a Benji movie? Well, director Joe Camp, who created those lovable mutt films in the mid-Seventies, and turns this whodunit, about a private detective (Chevy Chase, whose smirk is on autopilot) getting murdered and sent to heaven, and then sent back in the body of the lovable dog to solve his own murder. Add one luminous Jane Seymour, a dollop of menacing Omar Sharif, and the repeated barrage of Paul McCartney & Wings' pop song "Arrow Through Me" to the mix, and you have a slice of cinematic gold that is as perplexing as it is beguiling. –
Josh Kupecki
---
For more Chronicle Recommends picks, visit our Movie Picks page.
A note to readers: Bold and uncensored, The Austin Chronicle has been Austin's independent news source for over 40 years, expressing the community's political and environmental concerns and supporting its active cultural scene. Now more than ever, we need your support to continue supplying Austin with independent, free press. If real news is important to you, please consider making a donation of $5, $10 or whatever you can afford, to help keep our journalism on stands.
READ MORE
More Film
How the dancer made the leap to action star
Richard Whittaker, June 7, 2018
Celebrate May the Fourth away from a galaxy far, far away
Chronicle Film Staff, May 3, 2018
More Chronicle Recommends
Our recommendations of the finest movies from and about the ATX
Chronicle Film Staff, Nov. 4, 2018
Celebrating the cinematic legacy of Mary Shelley's creation
Chronicle Film Staff, Aug. 2, 2018
More by Chronicle Film Staff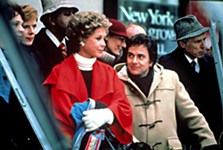 Our top picks for holiday movies with a twist
Dec. 6, 2018
Deliciously spooky films for the scaring season
Oct. 8, 2018
KEYWORDS FOR THIS POST
Film, White Dog, Chronicle Recommends, Harry & Tonto, Wendy and Lucy, Ring of Bright Water, The Incredible Journey, Pet Issue 2018
MORE IN THE ARCHIVES