Austin Animation Studio Releases Interactive Storybook
Mighty Coconut unveils augmented reality app 57° North
Just as it became clear that virtual reality wasn't going to blow up as quickly as predicted, augmented reality stole the spotlight with Pokémon GO. AR has more nuanced uses than placing a Ratata in your house with the help of your phone.
Local animation studio Mighty Coconut have thrown their hat in the AR ring with a new interactive storybook 57° North. The app for iOS or Android phones utilizes a Merge Cube, a non-virtual object with patterns all over it that facilitate the projection of virtual images onto and around its surfaces. As individual illustrated scenes end we're given one to four options that are chosen by rotating the cube in that direction.
A narrator tells the tale of a couple of cousins whose boat hits a storm and get marooned on a Lost-esque island. The illustrations lend character to the yarn, and the choices feel consequential. The compelling tale takes roughly an hour or so to complete, depending on your choices. I worried my arms might get tired holding both my phone and the Merge, but the lightweight cube and the short story chapters made that a non-issue.
Mighty Coconut has made a name with Pixar-quality animated shorts. Studio co-founder Lucas Martell made "Pigeon: Impossible" in 2009. Will Smith is slated to lend his voice to a feature length version of that work. More recently Mighty Coconut released "The Oceanmaker" and were shopping it around in the hopes to make that into a feature film. If you're familiar with their work – and you really should be, both shorts can be streamed for free – you know that they are both charming and polished. The same can be said of 57° North.
The main hurdle is the necessary Merge Cube not only denies you the instant gratification that comes with buying something for your phone but has a price tag of $15. Most app purchasers find anything upward of free to be too costly these days. Which is sad since they miss out on unique and enjoyable experiences like this. If you have interest in AR and what its possibilities are for mobile devices 57° North is an intriguing installment in an art form's evolution.
A note to readers: Bold and uncensored, The Austin Chronicle has been Austin's independent news source for over 36 years, expressing the community's political and environmental concerns and supporting its active cultural scene. Now more than ever, we need your support to continue supplying Austin with independent, free press. If real news is important to you, please consider making a donation of $5, $10 or whatever you can afford, to help keep our journalism on stands.
READ MORE
More Mighty Coconut
Local cartoon to become big-budget Will Smith vehicle
Richard Whittaker, Oct. 11, 2017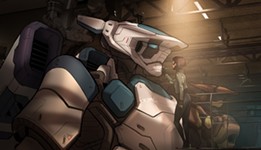 New Rooster Teeth show, Castlevania, and more
Richard Whittaker, July 17, 2017
More by James Renovitch
A horse-woman of the apocalypse and floppy fighting animals top Austin's offerings
Dec. 28, 2018
From essential box sets to writers' wisdom: stocking fillers and the gifts that keep on giving for your watching pleasure
Dec. 7, 2018
KEYWORDS FOR THIS POST
Mighty Coconut, 57° North, Pigeon: Impossible, The Oceanmaker
MORE IN THE ARCHIVES