Hollywood Gets Animated About Austin
Local cartoon to become big-budget Will Smith vehicle
From tiny acorns, mighty oaks grow. Sometimes, Hollywood animation springs from a Mighty Coconut. Fox Animation has announced that Will Smith and Tom Holland will voice the lead characters in Spies in Disguise, an upcoming feature based on a short by Lucas Martell, co-founder of Austin's Mighty Coconut animation studo.
In 2009, before he established the rising studio, Martell co-wrote, directed, and animated "Pigeon: Impossible," a hilarious silent tale of a very special suitcase, a very dumb bird, and a nervous spy called Walter. Now Walter returns to the screen, voiced by Holland (Spider-Man: Homecoming), opposite Smith as Lance Sterling, the world's smoothest and most capable spy.
This is more big news for Martell and his team, who are busy with their new YouTube Red series Kings of Atlantis, as well as their own original feature Koalaroo. While the Austin studio will not be directly involved with Spies in Disguise, Martell told the Chronicle, "The short was a labor of love and it's exciting to have it make its way to the big screen!"
The feature version is part of Fox Animation's reinvigorated slate, and will be co-directed by studio veteran Nick Bruno (The Peanuts Movie, the Ice Age franchise) and storyboard expert Troy Quane (9, Total Drama).
For more on what Martell and his fellow animators are up to, read Cracking the Mighty Coconut. Now here's the original short that started it all: Expect the full feature on January 18, 2019.
A note to readers: Bold and uncensored, The Austin Chronicle has been Austin's independent news source for almost 40 years, expressing the community's political and environmental concerns and supporting its active cultural scene. Now more than ever, we need your support to continue supplying Austin with independent, free press. If real news is important to you, please consider making a donation of $5, $10 or whatever you can afford, to help keep our journalism on stands.
READ MORE
More Mighty Coconut
Mighty Coconut unveils augmented reality app 57° North
James Renovitch, Feb. 5, 2018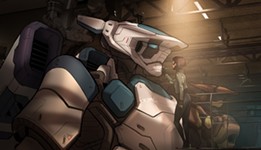 New Rooster Teeth show, Castlevania, and more
Richard Whittaker, July 17, 2017
More Austin film news
Austin-made documentary about Nickelodeon's TV revolution
Richard Whittaker, Oct. 11, 2017
The Honor Farm, Found Footage 3D coming home
Richard Whittaker, Oct. 8, 2017
More by Richard Whittaker
Close-up portrait of the Black Texas wrestler
June 5, 2020
Last-minute changes continue as the fest responds to events
June 5, 2020
KEYWORDS FOR THIS POST
Mighty Coconut, Austin film news, Austin filmmakers, Animation, Pigeon: Impossible, Spies in Disguise
MORE IN THE ARCHIVES