Horror Fans for Harvey Relief
First Death By Festival becomes hurricane fundraiser
Artists have been lining up to hold Hurricane Harvey fundraisers. Now it's the metal and horror community's turn, as the organizers of the inaugural Death By Festival are turning the event into Come and Give It – a charity event for people and animals affected by the storm.
The bruising mix of extreme music, extreme cinema, and a giving heart will be held on Oct. 28 at the North Door (501 Brushy), with all proceeds after costs going to the American Red Cross and Austin Pets Alive!
Death By evokes the original dream of late Housecore Horror Film Festival founder Corey Mitchell, who originally conceived of his event as a one-night event mixing underground metal and obscure horror at (guess where) the North Door. No surprise on the legacy: Nic Brown and Susie Winfield were co-producers at Housecore Horror, and with that event on indefinite hiatus, the pair had already set the wheels in motion for their own show. Now they have announced the night's transmogrification.
Texas has always been a center for the metal scene, and that's reflected in the music lineup. Classic Houston thrashers Dead Horse, who reunited in 2011 after a 14-year hiatus; industrialist Chris "Curse" Mackey (Pigface, My Life With the Thrill Kill Kult, Evil Mothers); San Antonio's necroclassical pioneer Goatcraft; and melodic metalcore crew Shattered Sun out of Alice, Texas, are all donating their performances, alongside legendary Morbid Angel vocalist David Vincent . Vincent, who traveled to Rockport over the Labor Day weekend to help with cleanup, said, "I'm honored to be a part of this event and invite everyone to join us in letting our fellow Texans know that we got you."
However, that's just half the equation. The night will also include the world premiere of Coffin Joe's Heart of Darkness, the newest film by twisted Brazilian genius José Mojica Marins, aka Coffin Joe. Infamous for his cerebral shocks, his latest will screen alongside the most gruesome and most unrelentingly gory: American Guinea Pig: The Song of Solomon. The third installment in the U.S.-based relaunch of the infamous Japanese gross-out series, this one stars the equally notorious Jim VanBebber, creator of true underground cult classics Manson Family and Deadbeat by Dawn.
Tickets for the epic 14-hour show on Oct. 28 are on sale now ($20 for music only, $30 for music and film, $65 VIP) at eventbrite.com. Further information at www.deathbyfestival.com.
A note to readers: Bold and uncensored, The Austin Chronicle has been Austin's independent news source for almost 40 years, expressing the community's political and environmental concerns and supporting its active cultural scene. Now more than ever, we need your support to continue supplying Austin with independent, free press. If real news is important to you, please consider making a donation of $5, $10 or whatever you can afford, to help keep our journalism on stands.
READ MORE
More Death by Festival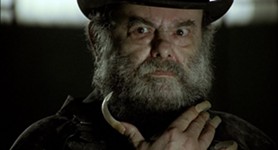 Brazilian iconoclast unleashed at Death By Fest
Richard Whittaker, Oct. 28, 2017
New horror/metal fest finalizes films with anthology premiere
Richard Whittaker, Oct. 7, 2017
More horror movies
Blood Over Texas holds debut meet up
Marc Savlov, Feb. 22, 2012
More by Richard Whittaker
Vincent van Horn takes the scary path to Hollywood
Oct. 23, 2020
AFS celebrates new oral history with virtual signing
Oct. 23, 2020
KEYWORDS FOR THIS POST
metal, Coffin Joe, Death By Festival, Horror Movies, Heavy Metal, Hurricane Harvey, Death by 2017
MORE IN THE ARCHIVES