Fantastic Fest Fills the Card
Massive list includes closing night film
The Fantastic Fest second wave is here, and bigger than you hoped, including the closing night film Downsizing, some major animation events, a plethora of restorations, the true story behind Wonder Woman, and an international smorgasbord of wild and crazy cinema.
This is the big announcement Fantastic Fest Fiends have been waiting for, as the festival eschewed the normal three-wave structure for this big bang (that said, expect maybe a few extra surprises before opening night on Sept. 21).
So about those films: Just as Martin McDonagh's eagerly awaited Three Billboards Outside Ebbing, Missouri grabbed the prestigious opening slot in the first round announcement, now the prestigious closing frames will be those of Downsizing, the new sci-fi social satire from the Election, Sideways, and Nebraska director Alexander Payne.
While excitement will undoubtedly be high for Payne's latest, there's bound to be buzz for the U.S. premiere of Professor Marston and the Wonder Women, the true story of the creator of the blockbuster superheroine, and the taboo-busting relationships that inspired him. Plus, anime fans will be thrilled to see the North American premiere of the new feature from Hiromasa Yonebayashi, the Studio Ghibli veteran behind When Marnie Was There and The Secret World of Arrietty. He'll be launching the new Studio Ponoc shingle with Mary and the Witch's Flower, adapted from British author Mary Stewart's The Little Broomstick, with the English voice cast lead by Kate Winslet, Ewen Bremner, and Jim Broadbent.
Animation fans will also get a big local thrill, courtesy of Austin's own Don Hertzfeldt, who was nominated for an Oscar for his bizarre and hilarious 2015 short "World of Tomorrow." Yes, "World of Tomorrow Episode Two: The Burden of Other People's Thoughts" takes us on another adventure with Emily Prime, as this extra-long short gets its world premiere.
Wave two also comes with some unmissable retrospective screenings. Since iconic Japanese director Takashi Miike will already be bringing his long-awaited 100th film, his live-action adaptation of manga Blade of the Immortal, he's seemingly packing a second treat for fans: a 4K restoration of the film that brought him to global attention/notoriety, 2001's Ichi the Killer. Local preservation maniacs the American Genre Film Archive screen their new restoration of the original porn spoof, Bat Pussy, while former Drafthouse booker Kier-La Janisse is back for another book launch. In 2015, she screened Evilspeak to celebrate the publication of her book, Satanic Panic: Pop-Cultural Paranoia in the 1980s. Now, she returns with a print of The Nude Vampire by Jean Rollin - the director who put the psycho into psychosexual, and the subject of her new work as a publisher, Lost Girls: The Phantasmagorical Cinema of Jean Rollin.
Speaking of the Francophone world, Hélène Cattet and Bruno Forzani, who blew FF 2013 away with The Strange Color of Your Body's Tears, return with their new gangster flick Let the Corpses Tan. They are just the spearhead of a global invasion, including films from *deep breath* India, Thailand, Switzerland, Denmark, Ireland, Latvia, South Africa, Brazil, Canada, Slovakia, Ukraine, Russia, Germany, Australia, Iceland, Norway, Mexico, and South Korea. Oh, and did we mention a Gilbert Gottfried documentary? Check out the full list below for all the details.
Here's the final wave, although keep your eyes peeled for extra announcements on Sept. 21. Follow all the news, reviews, and interviews at www.austinchronicle.com/fantasticfest.
More info at www.fantasticfest.com.
---
3ft Ball & Souls
Japan, 2017, International Premiere, 93 min.
D: Yoshio Kato
Four strangers come together to commit suicide using explosives. But they discover that every time they blow up, they're sent back to just before they killed themselves.
Applecart
USA, 2017, World Premiere, 86 min.
D: Brad Baruh
An idyllic weekend vacation to a secluded cabin turns deadly when the Pollack family discovers an unconscious woman whose sinister plans will pit the family members against each other.
Baasha
India, 1995, Repertory/International Premiere, 165 min.
D: Suresh Krishna
Superstar Rajinikanth plays a rickshaw driver with a history of violence in this genre-defying musical gangster romance epic from the director of Aalavandhan.
Bad Genius
Thailand, 2017, Texas Premiere, 130 min.
D: Nattawut Poonpiriya
A quartet of high school students are better at cheating than anything you've ever done in your life in this epic nail-biter about the standardized tests that level the playing field for all kids, smart and dumb, rich and poor.
AGFA + Something Weird present: Bat Pussy and a secret screening
American Genre Film Archive makes its triumphant return to Fantastic Fest with two movies that will rot your libido in the best way. Bat Pussy, the world's first X-rated parody, is what happens when an anonymous smut producer gets inspired by the 1960s Batman TV show but only has $5. It's also what happens when your wildest dreams and most horrifying nightmares collide in an explosion of flaccid stupefaction. Next up, after years of detective work, AGFA presents the world premiere of a brand new 2K transfer of one of the most sought-after lost films in the history of exploitation cinema.
Before We Vanish
Japan, 2017, North American Premiere, 129 min.
D: Kiyoshi Kurosawa
Kurosawa's latest film is a sci-fi thriller about an invasion in which aliens must come to understand humanity through understanding human emotion – most importantly, our collective capacity for love.
Blue My Mind
Switzerland, 2017, North American Premiere, 97 min.
D: Lisa Brühlmann
Blue My Mind follows 15-year-old Mia (Luna Wedler) as she undergoes a life-changing transformation, one that leaves her examining her body and her very existence in a new light.
Brimstone & Glory
Mexico, USA, 2017, Regional Premiere, 67 min.
D: Viktor Jakovleski
Tultepec is a small Mexican town that celebrates its love of fireworks with a yearly weeklong festival. This festival is captured in a glorious documentary that is pure cinema.
The Cured
Ireland/UK/France, 2017, U.S. Premiere, 95 min.
D: David Freyne
A zombie virus has hit the world … but it has been cured. What's next for the ex-zombies who have returned to normal? David Freyne's debut feature throws lots of food for thought into the mouth of your mind.
Darkland
Denmark, 2017, U.S. Premiere, 113 min.
D: Fenar Ahmad
An Iraqi doctor in Denmark seeks vigilante justice for his brother's murder when the police come up short, biting off more than he can chew in a world of gangs, drugs, and underground fight rings.
First Born
Latvia, 2017, North American Premiere, 90 min.
D: Aik Karapetian
Provocative Latvian director Aik Karapetian returns to Fantastic Fest with a new thriller that explores how far a meek architect will go to protect his dignity in the eyes of his wife in the aftermath of an attack.
Five Fingers for Marseille
South Africa, 2017, U.S. Premiere, 120 min.
D: Michael Matthews
A troubled young man returns to the town he fled as a youth and is forced to confront his past (and the town's difficult future) in this gorgeous Xhosa-language Western.
Gemini
USA, 2017, Special Screening, 93 min.
D: Aaron Katz
Our understandings of friendship, truth, and celebrity are challenged when a heinous crime tests the complex relationship between a tenacious personal assistant (Lola Kirke) and her Hollywood starlet boss (Zoë Kravitz) in Aaron Katz's latest.
Gilbert
USA, 2017, Regional Premiere, 99 min.
D: Neil Berkeley
Gilbert is the story of Gilbert Gottfried as never seen before, both a behind-the-scenes documentary and a poignant look at the life of a comedian who has more layers than most people can imagine.
Good Manners
Brazil/France, 2017, North American Premiere, 135 min.
D: Juliana Rojas & Marco Dutra
When lonely nurse Clara is hired as a nanny by wealthy Ana, she hardly expects anything like the friendship she finds with the lonely, pregnant woman. However, both women have dark secrets which will engulf all that they hold dear.
Haunters: The Art of the Scare
USA, 2017, World Premiere, 88 min.
D: Jon Schnitzer
Delving behind the scenes of one of America's most beloved seasonal pastimes, Haunters shows the world of the people who make the scariest houses, mazes, and experiences that range from the traditional to the controversial.
Ichi The Killer 4K Restoration
Japan, 2001, Repertory/World Premiere of Restoration, 129 min.
D: Takashi Miike
The yakuza occupy a murky universe with more twists and turns than the Shinjuku alleys they call home. The mysterious disappearance of a Tokyo mob boss triggers a hunt to find him, dead or alive. The search leads to the city's most depraved clubs and sex dens and eventually to Ichi, the schizophrenic hitman behind the crime. Even more shocking is the discovery that the mastermind who hired Ichi is a fellow gangster out for revenge.
Junk Head
Japan, 2017, U.S. Premiere, 114 min.
D: Takahide Hori
Humanity is dying. It's been 1,200 years since our rebellious clone workforce moved underground, and the only way we can survive is by plunging into the depths to learn more about our terrifying creations.
Jupiter's Moon
Hungary/Germany, 2017, North American Premiere, 123 min.
D: Kornél Mundruczó
The most ambitious science fiction film of the year is also perhaps the most visually stunning. Aryan is a refugee who finds himself with the power to levitate after being shot. Stern is a disgraced, corrupt doctor. The two will meet and alter the entire world.
Les Afames
Canada, 2017, U.S. Premiere, 100 min.
D: Robin Aubert
In the remote Quebec countryside, things are not well. A plague has infected the land, affecting almost all the residents of a small village. The survivors have to navigate their new existence as well as deal with the infected with an appetite for flesh.
Let the Corpses Tan
Belgium/France, 2017, U.S. Premiere, 92 min.
D: Hélène Cattet & Bruno Forzani
On a beautiful corner of the Mediterranean, Rhino and his men take refuge after the robbery of 250 kilograms of gold. The plan is simple: Wait and split. But some unwanted visitors are about to turn this idyllic corner into a bloodbath.
Letterkenny
Canada, 2016, U.S. Premiere, 151 min.
D: Jacob Tierney
The spiritual successors to Strange Brew's Bob and Doug McKenzie, the rural residents of the fictitious town of Letterkenny deliver a hysterical slice of Canadiana in the comedy phenomenon chronicling the daily problems of hicks, skids, hockey players, and Christians.
The Line
Slovakia/Ukraine, 2017, North American Premiere, 112 min.
D: Peter Bebjak
One line is literal, the border between Slovakia and Ukraine. Criminal Adam Krajnak (Tomas Mastalir) crosses it often, smuggling product and people. The other line is metaphorical, and crossing it leads to a death spiral of violence and vengeance.
Love and Saucers
USA/Canada, 2017 Texas Premiere, 67 min.
D: Brad Abrahams
David Huggins, a 72-year-old man who claims to have lost his virginity as a young man to an extraterrestrial being, turned to art to express his interspecies romance and lifelong relationship with the otherworldly.
Mary and the Witch's Flower
Japan, 2017, North American Premiere, 102 min.
D: Hiromasa Yonebayashi
Directing the first film out of Studio Ponoc, Hiromasa Yonebayashi (When Marnie Was There) creates the dazzling and heartwarming story of an ordinary girl who becomes an extraordinary witch.
The Merciless
South Korea, 2017, North American Premiere, 117 min.
D: Byun Sung-hyun
Cribbing liberally from the history of gangster films, Byun Sung-hyun's hard-boiled Korean crime saga is filled with all manner of murder, deceit, double and triple crosses … and, oh yeah, slap-fighting.
Mom and Dad
USA, 2017, U.S. Premiere, 83 min.
D: Brian Taylor
Selma Blair and Nicolas Cage are seemingly ideal parents until an unknown force causes their town's adults to murder their offspring.
Mon Mon Mon Monsters
Taiwan, 2017, Regional Premiere, 112 min.
D: Giddens Ko
A bullied schoolboy is teamed up with his tormentors to do community social work. While on duty, they encounter a strange creature which they kidnap, and take bullying to a whole new level.
Lost Girls Book Launch: The Nude Vampire presented by Kier-La Janisse
France, 1970 Repertory, 88 min.
D: Jean Rollin
Jean Rollin's The Nude Vampire (1970) follows a sinister businessman who's keeping a young vampire girl captive and experimenting on her in the hope that he finds the key to eternal life. The film will be screened in celebration of the launch of the new book from publisher Spectacular Optical, Lost Girls: The Phantasmagorical Cinema of Jean Rollin, the first examination of Rollin's work to be written by all-women critics, scholars, and film historians, and will be introduced by the book's publisher Kier-La Janisse.
The Prince of Nothingwood
France/Germany, 2017, U.S. Premiere, 85 min.
D: Sonia Kronlund
Meet Salim Shaheen: Afghani auteur, prolific actor, and one-man moviemaking industry. Along with his trusted troupe of actors, he defies all the odds in the Middle East to fulfill his dreams of making movies.
Professor Marston and the Wonder Women
USA, 2017, U.S. Premiere, 108 min.
D: Angela Robinson
In a superhero origin tale unlike any other, this film is the incredible true story of what inspired Harvard psychologist Dr. William Moulton Marston to create the iconic Wonder Woman character in the 1940s.
Rabbit
Australia, 2017, International Premiere, 99 min.
D: Luke Shanahan
After a full year, Maude is still stricken by visions of her sister Cleo's kidnapping. Believing that Cleo is still alive, Maude undergoes a suspenseful journey to find her in this stunning, atmospheric feature debut from Luke Shanahan.
Radius
Canada, 2017, U.S. Premiere, 91 min.
D: Caroline Labrèche & Steeve Léonard
When a man wakes up from a car crash with no memory of what happened, his first instinct is to find help. However, as he gets closer to civilization and other people, an ugly truth will rear its head and affect all those who surround him.
Revenge
France, 2017, U.S. Premiere, 108 min.
D: Coralie Fargeat
Three rich male thrill-seekers discover that Jennifer isn't the human sex doll that they assumed she was when they invited her on their isolated hunting getaway. Jennifer teaches them fundamental lessons about consent in a manner that they – and we – won't soon forget.
Rift
Iceland, 2017, Texas Premiere, 111 min.
D: Erlingur Thoroddsen
After a phone call from his ex wakes him late one night, Gunnar drives out to a secluded vacation cottage to save Einar from himself, but what awaits him there is mystery and confusion.
Salyut 7
Russia, 2017, World Premiere, 119 min.
D: Klim Shipenko
Based on a true story, Salyut 7 is the little-known mission to dock with an unmanned space station in order to stop it from crashing into Earth, a feat never before attempted in space history.
Thelma
Norway, 2017, Texas Premiere, 116 min.
D: Joachim Trier
A conservative young woman attending college in Oslo begins to fall in love while discovering her burgeoning supernatural powers in a stunning new film from Norway.
Thoroughbred
USA, 2017, Austin Premiere, 92 min.
D: Cory Finley
Two teenage girls in suburban Connecticut rekindle their unlikely friendship after years of growing apart. In the process, they learn that neither is what she seems to be, and that a murder might solve both of their problems.
Tigers are Not Afraid
Mexico, 2017, World Premiere, 83 min.
D: Issa López
When her mother suddenly disappears with no one to care for her, young Estrella ends up on the street and joins a gang of children, triggering a dangerous and tragic chain of events in the third feature from Mexican filmmaker López.
Under the Tree
Iceland/Denmark/Poland/Germany, 2017, U.S. Premiere, 89 min.
D: Hafsteinn Gunnar Sigurðsson
On the outskirts of Reykjavik, the shadow cast by a tree triggers a feud between two neighboring families, with tragic and darkly comic consequences.
V.I.P.
South Korea, 2017, International Premiere, 128 min.
D: Hoon-jung Park
A notorious serial killer who happens to be the son of a defecting DPRK official sends South Korea's National Intelligence, police from both states, and even international brass into a mad political scramble in this thrilling neo-noir.
Vampire Clay
Japan, 2017, U.S. Premiere, 80 min.
D: Sôichi Umezawa
A class of art school hopefuls is stalked by blood-thirsty, flesh-hungry clay in this bizarre practical effects-heavy horror assault from The ABCs of Death 2 segment director and longtime special makeup effects artist Umezawa.
Vidar the Vampire
Norway, 2017, Texas Premiere, 82 min.
D: Thomas Aske Berg & Fredrik Waldeland
Christian farmer Vidar has a boring life, living with his mom and tending sheep. When he wishes for more excitement he wakes up undead, hangs out with vampire Jesus, and discovers that sometimes the party can go on too long.
Wheelman
USA, 2017, World Premiere, 82 min.
D: Jeremy Rush
Frank Grillo (Kingdom, Captain America: Civil War) stars as the wheelman, a getaway driver thrust into a high-stakes race to survive after a bank robbery goes terribly wrong. With a car full of money and his family on the line, the clock is ticking to figure out who double-crossed him and the only person he can trust … his 14-year-old daughter. All reasons to think fast and drive faster.
"World of Tomorrow Episode Two: The Burden of Other People's Thoughts"
USA, 2017, World Premiere, 22 min.
D: Don Hertzfeldt
The highly anticipated follow-up to Don Hertzfeldt's Oscar-nominated "World of Tomorrow" finds Emily Prime swept into the brain of an incomplete backup clone of her future self, who's on a mission to reboot her broken mind. Continuing the tradition of the first film, "World of Tomorrow Episode Two" was written entirely around candid audio recordings of Hertzfeldt's 5-year-old niece.
A note to readers: Bold and uncensored, The Austin Chronicle has been Austin's independent news source for over 40 years, expressing the community's political and environmental concerns and supporting its active cultural scene. Now more than ever, we need your support to continue supplying Austin with independent, free press. If real news is important to you, please consider making a donation of $5, $10 or whatever you can afford, to help keep our journalism on stands.
READ MORE
More Fantastic Fest
Overlord, Apostle headline fest opening salvo
Richard Whittaker, July 31, 2018
Filmmakers talk science, magic, and bickering brothers
Richard Whittaker, April 20, 2018
More Fantastic Fest 2017
Vince Vaughn and Udo Kier on being the heavy
Richard Whittaker, Oct. 15, 2017
Don Hertzfeldt's signature stick figures are plump with ideas
Marjorie Baumgarten, Sept. 30, 2017
More by Richard Whittaker
Telling a love story with the "I love you"
Oct. 7, 2022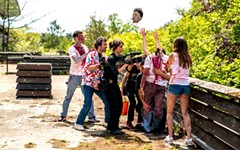 French remake of beloved Japanese movie-making comedy adds a little
Sept. 30, 2022
KEYWORDS FOR THIS POST
Fantastic Fest, Fantastic Fest 2017
MORE IN THE ARCHIVES