Andy Serkis For RTX
Planet of the Apes star to deliver keynote
Gollum. Caesar. The king of motion-capture actors, the man behind the digital mask, Andy Serkis has just been confirmed as the keynote speaker at RTX, the upcoming convention from online content powerhouse, Rooster Teeth.
Serkis' addition to the lineup shows that RTX, which started as a celebration of the local studio's own work like Red vs. Blue, is becoming much more expansive. He'll be joined on the day by four-time Oscar winner Joe Letteri, the current director of VFX industry pioneers, WETA Digital. He has also worked with Serkis on (deep breath) the Lord of the Rings and The Hobbit franchises, King Kong, The Adventures of Tintin, and the Planet of the Apes series.
Not only will they be part of a special keynote panel at 4.30pm on July 7, but attendees will get a chance to see their collaborative work in action with a special advance screening at the Paramount Theatre of War For the Planet of the Apes at 7pm.
That's the latest addition to an already packed schedule, which includes not only a full weekend of Rooster Teeth-related programming, but also an animation festival, the special screening of Netflix's new video game adaptation Castlevania, and a special performance at Stubbs by electropoppers Phantogram.
RTX Austin runs July 7-9 at the Austin Convention Center, Hilton Austin, Hyatt Place, JW Marriott, and the Paramount. Single day and weekend tickets at www.rtxaustin.com.
A note to readers: Bold and uncensored, The Austin Chronicle has been Austin's independent news source for almost 40 years, expressing the community's political and environmental concerns and supporting its active cultural scene. Now more than ever, we need your support to continue supplying Austin with independent, free press. If real news is important to you, please consider making a donation of $5, $10 or whatever you can afford, to help keep our journalism on stands.
READ MORE
More RTX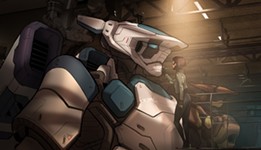 New Rooster Teeth show, Castlevania, and more
Richard Whittaker, July 17, 2017
Rooster Teeth teams with Twitch, Phantogram for convention
Richard Whittaker, May 17, 2017
More Rooster Teeth
Doctor Who star cast alongside Michael B. Jordan in Rooster Teeth Show
Richard Whittaker, July 30, 2018
Journalist turned comic writer part of Rooster Teeth's new show
Richard Whittaker, July 18, 2018
More by Richard Whittaker
Austin director cleans up with return of the cult classic
March 21, 2019
Teen sexuality as a spectrum in this tender drama of growing up and coming out
March 22, 2019
KEYWORDS FOR THIS POST
MORE IN THE ARCHIVES