Chronicle Recommends: Films About Chefs
Give your compliments to the chef with these four films
Every month, the Chronicle's film critics select a theme and offer movie recommendations. In honor of our annual First Plates awards, handed out earlier this month, we've chosen some of our favorite films about chefs.
Eat Drink Man Woman (1994)
Tao Chu is a master chef and a longtime widower, who is now retired. As well as losing his sense of taste, he is also losing touch with his grown daughters: an unmarried teacher, a corporate climber, and a fast-food worker at Wendy's. The only hold this Taiwanese patriarch still has over his girls is his weekly requirement that they attend the elaborate Sunday dinners he prepares (a foodie's delight to observe). The film is a tangy, early work by Ang Lee, who would go on to make such acclaimed films as Life of Pi and Brokeback Mountain. – Marjorie Baumgarten
Cannibal Holocaust (1980)
Arguably one of the first plates our hairy, hangry ancestor chefs ever nibbled on was long pig, aka some of our other long-gone forebears. Rich and savory, the cinema du cannibalisme extends at least as far back as Chaplin's Donner Party-inspired The Gold Rush, but it's the brutal gag-reflexology of Ruggero Deodato's invasive white people vs. toothsome Amazonians that stands unencumbered by good taste and enlivened by scenes of actual animal butchery that, in hindsight, likely aided and abetted the creation of both PETA, Morrissey, and, uh, Eli Roth. The genre's original found-footage gruegasm remains the single best litmus test for horror fans' first date night. If your perceived paramour manages to devour it whole with stomach contents intact, he/she's a keeper. – Marc Savlov
Who Is Killing the Great Chefs of Europe? (1978)
Take one George Segal and one Jacqueline Bisset. Drop them into a charming and irresistible mystery comedy that jaunts around like a Grand Tour of murder. Add a heaping helping of Robert Morley, who played English pomposity like few others. Garnish with over-the-top desserts and meals that will make you weep with envy. Blend in some romance and some great camerawork, and cook for 112 minutes. The result is a delicious slice of Seventies cinema. – Josh Kupecki
This was the last film from comic nonpareil Nora Ephron. Honestly, half the movie ain't so hot – that's the half starring Amy Adams as a depressed blogger cooking her way through Julia Child's Mastering the Art of French Cooking. But the other half, the one with a boisterous Meryl Streep going big as the 6-foot, 2-inch tall Julia? Totally delightful. It chronicles her postwar arrival in France with diplomat husband Paul (Stanley Tucci) and her subsequent training at Le Cordon Bleu. Theirs is a funny, frisky romance, further distinguished by mutual respect and, bien sûr, a passion for French food. – Kimberley Jones
A note to readers: Bold and uncensored, The Austin Chronicle has been Austin's independent news source for over 40 years, expressing the community's political and environmental concerns and supporting its active cultural scene. Now more than ever, we need your support to continue supplying Austin with independent, free press. If real news is important to you, please consider making a donation of $5, $10 or whatever you can afford, to help keep our journalism on stands.
READ MORE
More Film
How the dancer made the leap to action star
Richard Whittaker, June 7, 2018
Celebrate May the Fourth away from a galaxy far, far away
Chronicle Film Staff, May 3, 2018
More by Chronicle Film Staff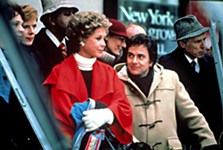 Our top picks for holiday movies with a twist
Dec. 6, 2018
Our recommendations of the finest movies from and about the ATX
Nov. 4, 2018
KEYWORDS FOR THIS POST
Film, Eat Drink Man Woman, Cannibal Holocaust, Who Is Killing the Great Chefs of Europe, Julie & Julia, Chronicle Recommends
MORE IN THE ARCHIVES