Chronicle Recommends: Baseball Films
Four picks step up to bat for your attention
Every month, the Chronicle's film critics select a theme and offer movie recommendations. To celebrate the return of America's pastime, we pick our favorite baseball films. Play ball!
No No: A Dockumentary (2014)
If you've heard of Dock Ellis, the professional baseball player who is the subject of this film, it's no doubt because of the no-hitter he threw for the Pittsburgh Pirates while high on LSD in 1970. This locally made documentary, however, fills out the details of Ellis' career beyond the legend that has defined his career. Ellis' superlative pitching history, bold individualism, and racial candor are captured in this fascinating life story that also reflects American culture. – Marjorie Baumgarten
The Bad News Bears (1976)
One of the most transgressive PG-rated films of the Seventies, this tale of an upstart little league baseball team full of foulmouthed kids and their drunkard of a coach (Walter Matthau, leaving countless cigar butts and Schlitz tall-boy cans in his wake) is a hilarious time capsule to a bygone era. And while Richard Linklater tried to capture the magic in his 2005 remake, there is no substitute for this pitch-perfect ode to losers and ne'er-do-wells.– Josh Kupecki
Moneyball (2011)
A fictional account of the cash-poor Oakland A's and GM Billy Beane's big gamble to use statistical analysis to reinvent their roster in 2002, Moneyball is a classic underdog story enlivened by a funny, fleet script and winning turns from Brad Pitt and Jonah Hill. There's not a ton of actual baseball footage in the movie, but no matter – Moneyball improbably makes the case that sabermetrics can be pretty soulful stuff, too. – Kimberley Jones
The Sandlot (1993)
When it comes to coming-of-age flicks, this underrated gem usually gets left in the dugout of forgotten films. It's the summer of '62 and new kid on the field of dreams Scotty longs to be part of the neighborhood pickup game, but can't catch a fly ball to save his life. When an accidental homer lands his pop's Babe Ruth-autographed ball in the lair of the Cujo-esque beast next door, the gang has to man up to recover the sacred sphere. By turns nostalgic, charming, and choke-on-your-popcorn funny, this is an overlooked beanball classic. – Marc Savlov
A note to readers: Bold and uncensored, The Austin Chronicle has been Austin's independent news source for over 40 years, expressing the community's political and environmental concerns and supporting its active cultural scene. Now more than ever, we need your support to continue supplying Austin with independent, free press. If real news is important to you, please consider making a donation of $5, $10 or whatever you can afford, to help keep our journalism on stands.
READ MORE
More Film
How the dancer made the leap to action star
Richard Whittaker, June 7, 2018
Celebrate May the Fourth away from a galaxy far, far away
Chronicle Film Staff, May 3, 2018
More by Chronicle Film Staff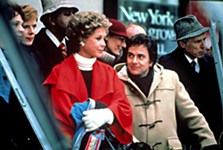 Our top picks for holiday movies with a twist
Dec. 6, 2018
Our recommendations of the finest movies from and about the ATX
Nov. 4, 2018
KEYWORDS FOR THIS POST
Film, The Bad News Bears, No No: A Dockumentary, Moneyball, The Sandlot, Chronicle Recommends
MORE IN THE ARCHIVES