Chronicle Recommends: Protest Movies
Four films to get you out of the theatre and into the streets
Every month, the Chronicle's film critics select a theme and offer movie recommendations. In honor of March's A Day Without a Woman general strike, we're singling out a few of our favorite protest films.
Selma (2014)
Fifty-two years after the Selma, Ala., voting-rights marches depicted here, this film focusing on the organizing work of Dr. Martin Luther King refreshes our collective memory of America's ugly racial history yet also questions our nation's reformation during the intervening decades. A fascinating subtext is the film's exploration of the idea that nonviolent protest cannot exist in a vacuum. Nonviolence can be a tricky strategy when it depends on its opposite – violence – in order to be heard. – Marjorie Baumgarten
How to Survive a Plague (2012)
David France's Oscar-nominated documentary revisits the early days of the AIDS epidemic and the mobilization of the LGBT community when it became clear the government wasn't going to spend a lot of money or energy on a mysterious illness that appeared to mostly impact gay men. It's a fascinating historical document of the evolution of a movement from guerrilla tactics to a more well-oiled activism, and an emotionally devastating one, as well: Most of the heroes here didn't live to see just how successful they were in waking up the world to the AIDS crisis. – Kimberley Jones
If....(1968)
Lindsay Anderson's surreal and violent portrayal of an uprising at a boys' boarding school hasn't lost any of its impact nearly 50 years on. In his first role, Malcolm McDowell is Mick Travis, part of a group of boys physically and mentally persecuted by upperclassmen and teachers alike. The resulting third-act conflagration of automatic weapons, fire, and casualties is actually more harrowing today, in the wake of nearly weekly school shootings. – Josh Kupecki
Medium Cool (1969)
Haskell Wexler's era-defining, quasi-documentary arrived in theaters in 1969, but it's every bit as relevant and frightening when viewed through our current political kaleidoscope. Robert Forster is at the peak of both his indie cred and mercurial form as a television cameraman unwittingly but presciently present at the birth of a new, and far more treacherous, media landscape. Wexler and Forster (and their crew) were right there amongst the billy clubs and busted heads of Chicago's infamously bloody 1968 Democratic Convention. The real-world footage made it into the final reel-world production and the whole of it is every bit as disturbing as anything since filmed, and maybe more so, given today's 24/7 media hellscape. – Marc Savlov
A note to readers: Bold and uncensored, The Austin Chronicle has been Austin's independent news source for over 40 years, expressing the community's political and environmental concerns and supporting its active cultural scene. Now more than ever, we need your support to continue supplying Austin with independent, free press. If real news is important to you, please consider making a donation of $5, $10 or whatever you can afford, to help keep our journalism on stands.
READ MORE
More Film
How the dancer made the leap to action star
Richard Whittaker, June 7, 2018
Celebrate May the Fourth away from a galaxy far, far away
Chronicle Film Staff, May 3, 2018
More by Chronicle Film Staff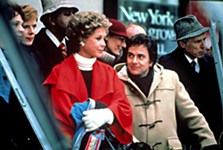 Our top picks for holiday movies with a twist
Dec. 6, 2018
Our recommendations of the finest movies from and about the ATX
Nov. 4, 2018
KEYWORDS FOR THIS POST
Film, How to Survive a Plague, Selma, If..., Medium Cool, Chronicle Recommends
MORE IN THE ARCHIVES