Chronicle Recommends: Animal Movies
Let these furry friends act their way into your heart
Every month, the Chronicle's film critics select a theme and offer movie recommendations. This month, to coincide with our Pets Issue, we pick our favorite films starring intrepid characters from the animal kingdom.
The NeverEnding Story (1984)
Is this movie even any good? I haven't seen it since I was a kid, but back then I was fully in thrall to its magic and melancholy and defining idea that an active imagination can literally save the world; it's no stretch to say I fell in love with storytelling and existential despair both because of The NeverEnding Story. (Sartre would come later; first I cut my teeth on the Nothing.) But to circle back to the original question: This movie stars a flying dog – sorry, luckdragon – and a prophetic turtle, a self-sacrificing horse and a homicidal wolf. Plus sentient rocks! Fuck yeah, this movie is awesome. – Kimberley Jones
Le Quattro Volte (2010)
An aged goatherd dies, and a goat is born. Although this Italian film has no dialogue or music, Le Quattro Volte is an aurally rich movie. The essence of this austere, funny, beautiful, and transfixing meditation on the cycle of life is the regenerative continuity from man to goat to tree to mineral. (And one stunningly composed, comical sequence earned the dog that sets off a chain of events a special award when the film premiered at Cannes.) – Marjorie Baumgarten
Phenomena (1985)
An entomophobic's worst nightmare, Dario Argento's last truly supernatural film from his classic period carries plenty of creepy-crawl resonance to the director's past masterworks while embarking on its own hauntingly bizarro themes. Strikingly young Jennifer Connelly is trapped at a hoity-toity Swiss boarding school as she assists wheelchair-bound Donald Pleasence in uncovering a series of brutal murders. The kicker? Connelly has a psychic link to the insect kingdom. Argento choreographs disturbing setpieces of houseflies, arachnids, maggots, and presumably cooties, while the scarlet spurts aplenty and the ever-lunatic Pleasence hangs out with his best friend, a chimpanzee. – Marc Savlov
White God (2014)
This amazing feat of cinema blends political allegory with the tropes of coming-of-age films, as a girl is separated from her dog, and roams the city of Prague trying to find her. Eschewing CGI, director Kornél Mundruczó coaxes performances from, in some sequences, 280 dogs. The final scenes evoke a kind of Battleship Potemkin of canine mutiny. – Josh Kupecki
A note to readers: Bold and uncensored, The Austin Chronicle has been Austin's independent news source for over 40 years, expressing the community's political and environmental concerns and supporting its active cultural scene. Now more than ever, we need your support to continue supplying Austin with independent, free press. If real news is important to you, please consider making a donation of $5, $10 or whatever you can afford, to help keep our journalism on stands.
READ MORE
More Film
How the dancer made the leap to action star
Richard Whittaker, June 7, 2018
Celebrate May the Fourth away from a galaxy far, far away
Chronicle Film Staff, May 3, 2018
More by Chronicle Film Staff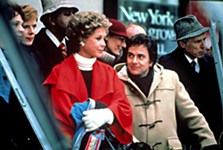 Our top picks for holiday movies with a twist
Dec. 6, 2018
Our recommendations of the finest movies from and about the ATX
Nov. 4, 2018
KEYWORDS FOR THIS POST
Film, Le Quattro Volte, The NeverEnding Story, Phenomena, White God, Chronicle Recommends
MORE IN THE ARCHIVES