Chronicle Recommends: Fictional Presidents of Film and TV
Take a break from #45 with these fictional Commanders in Chief
Every month, the Chronicle's film critics select a theme and offer movie recommendations. This month, in recognition of President Obama leaving the White House, we pick our favorite fictional presidents from film and television.
Fail-Safe (1964)
Released the same year as Stanley Kubrick's satiric Dr. Strangelove, Sidney Lumet's Fail-Safe takes a more grimly realistic approach to the Cold War nuclear apocalypse. It bombed at the box office when it hit theatres months after Strangelove, but Fail-Safe can now be seen as a truer depiction of how nuclear brinksmanship might actually play out. Henry Fonda, as always projecting an innate decency, plays the president of the United States, who must make a catastrophic decision after the U.S. erroneously bombs Moscow. The movie's conclusion is fair but devastating. – Marjorie Baumgarten
Wild in the Streets (1968)
This pitch-black satire of youth in rebellion imagines twentysomething rock star Max Frost (Christopher Jones) as a president who lowers the voting age to 15, marches everyone over the age of 30 to re-education camps where they're forced to drink the LSD Kool-Aid, and generally blows the status quo to bits. Shelley Winters co-stars as Max's flipped-out and shrieky mom, Richard Pryor pounds the skins in his film debut, and Hal Holbrook, Millie Perkins, and Diane Varsi add just the right note of feverish intensity to this overlooked AIP gem. See? Things could be worse. – Marc Savlov
Being There (1979)
Peter Sellers inhabits the simple-minded Chance, a gardener for a deceased millionaire, who through happenstance finds himself inexplicably becoming a Washington advisor for Jack Warden's benevolent POTUS. His simple statements get interpreted as profound allegories on the state of the union, a conceit that is more relevant now than ever. – Josh Kupecki
Battlestar Galactica (2004)
Apparently we're only allowed women presidents in science fiction. Okay, so TV's President Laura Roslin wasn't technically elected to the job – one of the few cabinet members to survive the first Cylon attack, she was 43rd in the line of succession – but she proved a tough and compassionate leader of the Twelve Colonies. And with that killer warm coo, Mary McDonnell proved you don't have to raise your voice to be boss. So boss. – Kimberley Jones
A note to readers: Bold and uncensored, The Austin Chronicle has been Austin's independent news source for over 40 years, expressing the community's political and environmental concerns and supporting its active cultural scene. Now more than ever, we need your support to continue supplying Austin with independent, free press. If real news is important to you, please consider making a donation of $5, $10 or whatever you can afford, to help keep our journalism on stands.
READ MORE
More Film
How the dancer made the leap to action star
Richard Whittaker, June 7, 2018
Celebrate May the Fourth away from a galaxy far, far away
Chronicle Film Staff, May 3, 2018
More by Chronicle Film Staff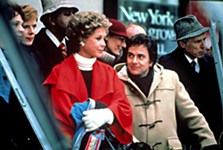 Our top picks for holiday movies with a twist
Dec. 6, 2018
Our recommendations of the finest movies from and about the ATX
Nov. 4, 2018
KEYWORDS FOR THIS POST
Film, Wild in the Street, Being There, Battlestar Galactica, Fail-Safe, Chronicle Recommends
MORE IN THE ARCHIVES