Chronicle Recommends: Scary Political Thrillers
If current politics aren't scary enough for you, check out these films
Every month, the Chronicle's film critics select a theme and offer movie recommendations. This month, to steel ourselves for the upcoming presidential election, we've chosen our favorite scary political thrillers.
A Face in the Crowd (1957)
Although it's more a study of how easily a demagogue captivates the U.S. airwaves and the country's sheeplike consumers, A Face in the Crowd still works as a cautionary tale about modern-day demagogues. If you've never watched it, the film is a must-see American classic (starring Andy Griffith, believe it or not), and if you already have, it serves as a good reminder of how apprenticing on TV can be a warm-up for eventual laps around the corridors of political power. – Marjorie Baumgarten
The Ambassador (2011)
Professional provocateur and guerrilla filmmaker of many faces Mads Brügger outfits himself with official-looking Liberian Consul papers, travels to the Central African Republic, and – unflappable as always – hoodwinks every strongman, killer, and one-percenter he encounters. Ostensibly a muckraking documentary-satire, Brügger unearths jaw-slackening absurdities of ambassadorships the world over. – Marc Savlov
The Star Chamber (1983)
You'd be hard pressed to find a nastier slice of scary, Eighties right-wing agitprop than this Peter Hyams thriller in which judge Michael Douglas, weary of seeing violent criminals get off on technicalities, gets recruited by Hal Holbrook into a shadow court that metes out its own brand of justice. As Holbrook says at one point, "The whole goddamned world is out to lunch." Does that sound like anyone we know? – Josh Kupecki
State of Play (2003)
Hollywood took a stab in 2009 at remaking this 2003 British miniseries about political corruption, but you're better off sticking with the smart, twisty original, directed by David Yates (he helmed the last three Harry Potter films) and written by Paul Abbott (Shameless). The cast is exquisite: David Morrissey is a British MP under a cloud of suspicion following the death of his research assistant; Bill Nighy, John Simm, and Kelly Macdonald play the newspaper reporters pulling the thread of that death back to Big Oil; and James McAvoy steals the show as Nighy's wayward son, a tabloid hack. – Kimberley Jones
A note to readers: Bold and uncensored, The Austin Chronicle has been Austin's independent news source for over 40 years, expressing the community's political and environmental concerns and supporting its active cultural scene. Now more than ever, we need your support to continue supplying Austin with independent, free press. If real news is important to you, please consider making a donation of $5, $10 or whatever you can afford, to help keep our journalism on stands.
READ MORE
More Film
How the dancer made the leap to action star
Richard Whittaker, June 7, 2018
Celebrate May the Fourth away from a galaxy far, far away
Chronicle Film Staff, May 3, 2018
More by Chronicle Film Staff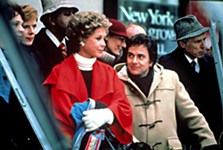 Our top picks for holiday movies with a twist
Dec. 6, 2018
Our recommendations of the finest movies from and about the ATX
Nov. 4, 2018
KEYWORDS FOR THIS POST
Film, A Face in the Crowd, The Ambassador, The Star Chamber, State of Play, Chronicle Recommends
MORE IN THE ARCHIVES