Chronicle Recommends: Films from 1981
Experience cinema from the Chronicle's founding year
Every month, the Chronicle's film critics select a theme and offer movie recommendations. In honor of the Austin Chronicle's 35th anniversary, we're celebrating films from 1981.
An American Werewolf in London
This, my first underaged side-door foray into the toothy red maw of R-rated horror – I was 14 – today remains every bit the mind-blowing, meta-lycanthro-comedy that earned practical effects godhead Rick Baker his first Academy Award. Director Landis helms an absolutely dead-on brilliant cast working from his own gloriously surreal/hyperreal melding of yuks, yuck, and Jenny Agutter as the sexiest and most compassionate nurse in movie history. I cried at the end. I still do. And I stick to the road, always. A perfect film. – Marc Savlov
Honky Tonk Freeway
There are some who say that the British director John Schlesinger (he of such gritty dramas as Midnight Cowboy and Sunday Bloody Sunday) had no business making a lightweight American comedy like Honky Tonk Freeway. And the film's paltry box office take and brutal reviews certainly support that theory. However, this little time capsule with a terrific cast offers an amusing panorama of dyspeptic families and other vacation seekers, mercenary bureaucrats, and small-town concerns. And, to this day, it still makes me laugh to think about that elephant up on water skis. – Marjorie Baumgarten
Continental Divide
You could probably rattle off a half-dozen iconic John Belushi characters without taking a breath, but not a one of 'em is a romantic lead. And that's what makes Continental Divide not a great movie, but an interesting one. Released just six months before his fatal speedball overdose, and roundly rejected at the time by his fans, the film cast Belushi as a hard-driving Chicago journalist forced to hide out in the Rockies, where he spars with, then woos, an eagle protectionist (Blair Brown). It's sweet, and kinda sad, wondering what Belushi might have done with more parts like this that challenged his clownish persona. – Kimberley Jones
Wolfen
Militant Native Americans, wolf gods, and gentrification swirl around in this criminally underrated crime/horror film which places Albert Finney in the center of a mystery that starts with the brutal murder of a real estate magnate and ends with a shapeshifter showdown in the slums of the South Bronx. The film's stunningly bleak cinematography matched by great performances by Finney, Gregory Hines, and Edward James Olmos make this an Eighties classic worth revisiting. – Josh Kupecki
A note to readers: Bold and uncensored, The Austin Chronicle has been Austin's independent news source for over 40 years, expressing the community's political and environmental concerns and supporting its active cultural scene. Now more than ever, we need your support to continue supplying Austin with independent, free press. If real news is important to you, please consider making a donation of $5, $10 or whatever you can afford, to help keep our journalism on stands.
READ MORE
More Film
How the dancer made the leap to action star
Richard Whittaker, June 7, 2018
Celebrate May the Fourth away from a galaxy far, far away
Chronicle Film Staff, May 3, 2018
More by Chronicle Film Staff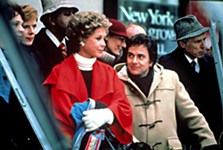 Our top picks for holiday movies with a twist
Dec. 6, 2018
Our recommendations of the finest movies from and about the ATX
Nov. 4, 2018
KEYWORDS FOR THIS POST
Film, An American Werewolf in London, Honky Tonk Freeway, Continental Divide, Wolfen, Chronicle Recommends
MORE IN THE ARCHIVES