Chronicle Recommends: Sweaty Films
Make sure you stay hydrated watching these persperational picks
Every month, the Chronicle's film critics select a theme and offer movie recommendations. This month, in celebration of the Chronicle's annual Hot Sauce Festival, our critics pick their favorite steamy and sweaty movies.
Uncle Boonmee Who Can Recall His Past Lives (2010)
Apichatpong Weerasethakul's masterpiece won the 2010 Cannes Palme d'Or and deserves to be seen again, and again. To Western eyes it's a lush and steamy magical-realist portrait of an elderly animist residing in Thailand's perpetually impoverished, northeastern farming province of Isan who, yes, recalls his various past forms. Apichatpong, an arthouse favorite (and good friend of Tilda Swinton), sweats his quiet, gently haunting film in dreamy Isan heat. In the never-colonized kingdom of Thailand, ghost and spirits always abound, but Apichatpong's true filmic motive is humanizing the Buddhist/animist "dream of life" and vice versa. It's the most drolly "human" of all Thai films. – Marc Savlov
Dog Day Afternoon (1975)
The title alone conjures images of the copious sweat on display in this true-crime movie about a bank robbery gone bad. Based on a daylong standoff in August 1972 between the police and a felon wanting cash to fund his lover's sex reassignment surgery, this Sidney Lumet movie is a NYC classic starring a heavily perspiring Al Pacino. (Ironically, the movie was filmed during cold weather, and the characters' beads of sweat represent the handiwork of talented makeup artists.) – Marjorie Baumgarten
Baby Doll (1956)
Baby Doll was banned by the Catholic Legion of Decency – how could it not be? A menacing three-hander about a flirty virgin bride (Carroll Baker), her blue-balled husband (Karl Malden), and his business and romantic rival (Eli Wallach), Baby Doll gets so worked up you worry it might pass out – from the hot, delirium-inducing Southern sun and so many lecherous looks. Almost indecently entertaining. – Kimberley Jones
The Hot Spot (1990)
In director Dennis Hopper's lurid slice of Southern-fried noir, Don Johnson plays a drifter who takes a job as a used car salesman in a small town. Bank robbery and blackmail are nothing compared to being caught between femme fatale Virginia Madsen and jailbait Jennifer Connelly. No wonder Johnson has a perpetual bead of sweat on his brow. Primarily filmed in Taylor, Texas (with some sections filmed in Austin!), The Hot Spot is an amoral, sleazy, unappreciated gem. – Josh Kupecki
A note to readers: Bold and uncensored, The Austin Chronicle has been Austin's independent news source for over 40 years, expressing the community's political and environmental concerns and supporting its active cultural scene. Now more than ever, we need your support to continue supplying Austin with independent, free press. If real news is important to you, please consider making a donation of $5, $10 or whatever you can afford, to help keep our journalism on stands.
READ MORE
More Film
How the dancer made the leap to action star
Richard Whittaker, June 7, 2018
Celebrate May the Fourth away from a galaxy far, far away
Chronicle Film Staff, May 3, 2018
More by Chronicle Film Staff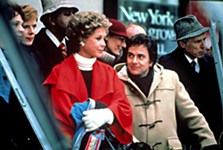 Our top picks for holiday movies with a twist
Dec. 6, 2018
Our recommendations of the finest movies from and about the ATX
Nov. 4, 2018
KEYWORDS FOR THIS POST
Film, Dog Day Afternoon, Uncle Boonmee Who Can Recall His Past Lives, Baby Doll, The Hot Spot, Chronicle Recommends
MORE IN THE ARCHIVES