RTX: Nine Things We Learned About RWBY
Rooster Teeth's anime-inspired series takes centerstage
How big a deal is Rooster Teeth's anime-influenced series RWBY? Friday's panel at this weekend's RTX festival filled the massive Austin Convention Center Exhibit Hall 1, then filled it again Saturday for a repeat. With a whole slate of programming all weekend, there's a pile of details about the future of RT's massive hit.
1: Volume IV is coming. During Friday's panel, Rooster Teeth confirmed that the next run of the streaming sensation will arrive Oct. 22.
2: Game Time: Rooster Teeth has always been about gaming culture, and finally gets into the gaming business with RWBY: Grimm Eclipse, which came out today via Steam. However, showrunner Kerry Shawcross said that, if all goes well, it will be available on consoles before the end of the year.
3: Chibi Lives! The current run of the RWBY comedy spin-off show will continue right through to the week before Volume IV debuts.
3: About Volume IV ... Details are scarce, but the new character trailer shown over the weekend promises the darker tone established in Volume III remains. What can be confirmed is that there are design evolutions, with many of the central characters getting major overhauls. That goes particularly true for Ruby herself: Her new costume reflects that she is an innocent schoolgirl no more. With the survivors of Team RWBY still scattered to the four winds, Shawcross, said, "There's more of a journey this time. Fun and sad times."
5: New Characters and that's not just in the core show. Some familiar faces will be turning up in RWBY Chibi, there's a new villain in Grimm Eclipse, and a new gorilla Grimm menacing Ruby during her road trip.
6: Melody is Everything. That was the opinion of RWBY composer Jeff Williams. When he was initially approached to score the show, he had just come off Rooster Teeth's biggest show, Red vs Blue, and was dropped rapidly into this new world. His first response: "Who's this girl and why is she killing these dogs?" However, he quickly adapted to the show and developed different signatures for each lead character. The ability to adapt those distinctive moments as the show and the characters evolved, and as the show expanded across platforms and styles, adding Chibi and Grimm Eclipse, Williams attributed that to "growing up in a disco house. ... The stuff that I learned to play when I was a kid was really goofy tunes, like 'Camptown Races' and 'Jingle All the Way', so I was playing melodies." That's made him comfortable jumping between styles when composing, while still keeping the signature melodies at the core. In fact, he finds it harder to stick with one style. "To be able to do 'Boop' on the same record as 'Sacrifice' is a real blessing for me."
7: They Told You So: There was one evolution that was almost too much. Williams admits that he took a lot of flack when Volume II's opening theme, "Time To Say Goodbye," was replaced by the heavier, darker season III theme, "When It Falls." He said, "The initial reaction to the new theme song was 'I don't like this.'" When the season finale hit, with characters dropping like flies and the world in turmoil, he got to say "I fucking told you so. ... It seemed a little dark, oh, time to say goodbye to our youth. No, time to say goodbye to my arm."
8: Just Because it's CG Doesn't Mean it Doesn't Hurt. Both RWBY and Red vs Blue rely heavily on motion capture technology, so that means a big stunt team under coordinator Carmichael Simon. However, a lot of RWBY is storyboarded before the stunt team get involved, and some of what the animators design is, well, physically impossible. So what Simon and his team of martial artists, dancers, acrobats, and stunt people have done is get mo-caped doing individual movements for what he called the Library. That way, if a stunt is too complicated, the animators can create composites from the existing files, or get the stunt crew to add another element as needed. Simon said, "We've done everything from punches and kicking and blocks and jump kicks and flips and tricks and sword cuts."
9: Clear Your Shelves and Open Your Wallets. After the marketing deal that got a limited line of RWBY merch into Hot Topic (which seems to have left Shawcross and team as shocked as anyone), the next year will see an explosion of clothing, bags, and collectibles. Last month, Rooster Teeth announced that they'll be launching a toy range with Jazwares, and there were a few more details, including confirmation of vinyl figures of Team RWBY, plush toys, and the 2-inch Chibi blind box range. The latter will feature 11 figures, including two variants: and, yes, Zwei's most distinctive feature has been modeled. The biggest news may be the confirmation of a 6-inch articulated line, comparable to the ultra-detailed Star Wars Black line.
A note to readers: Bold and uncensored, The Austin Chronicle has been Austin's independent news source for over 40 years, expressing the community's political and environmental concerns and supporting its active cultural scene. Now more than ever, we need your support to continue supplying Austin with independent, free press. If real news is important to you, please consider making a donation of $5, $10 or whatever you can afford, to help keep our journalism on stands.
READ MORE
More RTX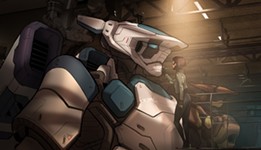 New Rooster Teeth show, Castlevania, and more
Richard Whittaker, July 17, 2017
Planet of the Apes star to deliver keynote
Richard Whittaker, June 21, 2017
More Rooster Teeth
New roles for longtime RT personalities as Jordan Levin becomes GM
Richard Whittaker, Sept. 24, 2019
Studio to address worker stress, conditions
Richard Whittaker, June 17, 2019
More by Richard Whittaker
Cosmic horror with a visceral body horror bent
Aug. 12, 2022
Silly Canadian comedy-horror gets the biggest laughs from its smarts
Aug. 12, 2022
KEYWORDS FOR THIS POST
RTX, Rooster Teeth, RWBY, RWBy Chibi, RWBY: Grimm Eclipse, RTX 2016
MORE IN THE ARCHIVES